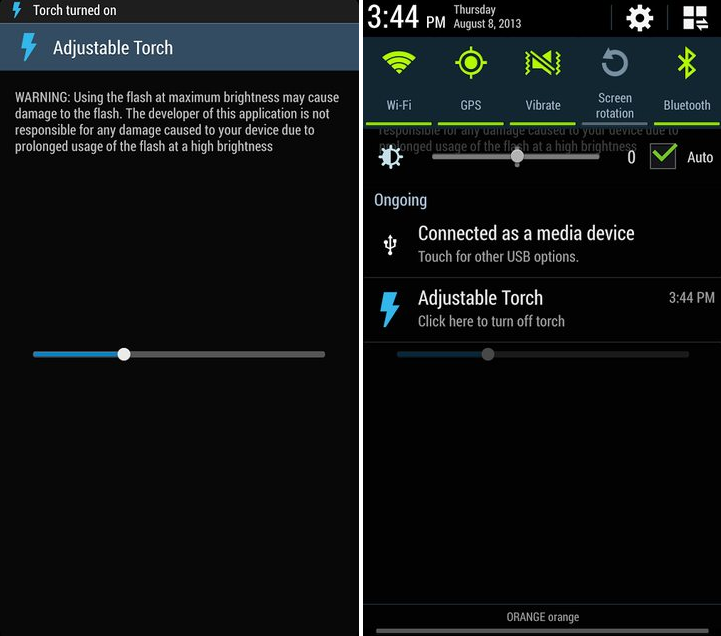 One of the most-used apps on my phone is the flashlight. If I'm walking around my house at night, sometimes I just don't want to bother finding the light switch and risk waking up roommates. The flashlight on my Galaxy S3 has plenty of brightness, and it's an excellent solution for camping as well.
That's why I like a new app called Adjustable Torch. As you may or may not know, British people call flashlights torches. They also call torches  torches. So before you dismiss Adjustable Torch as being an app for cavemen learning how to start a fire, read how Adjustable Torch works:
-Adjustable Torch allows you to adjust the brightness of your rear-facing camera flash
-Your smartphone already has a flashlight feature by default, but most manufacturers don't allow you to set the brightness of this flashlight or the flash of your camera
Yes, that brightness level can be adjusted. By default, the flash is set to about 1/3rd brightness, which means you can make it more or less bright depending on what you're using it for.
A word of warning
The creator of the Adjustable Torch app does warn users that increasing the flash to maximum brightness can cause permanent damage to the flash feature, and that he does not want to be responsible for any of this damage.
To download Adjustable Torch today, visit the application thread at the XDA Developers Forum. The app is confirmed to work with the Galaxy S4 (GT-I9500 and GT-I9505) as well as the Samsung Galaxy Note 2 (GT-N7100), although it's also expected to work with other devices.