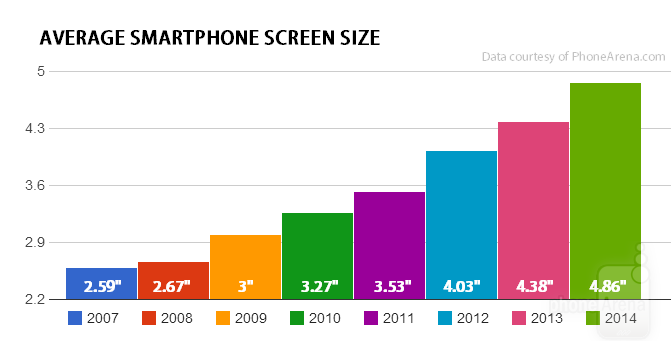 The manner in which 5-inch and over 5-inch screen displays are being launched by OEMs in the smart phone category, it would appear the 4 inch screen will be a relic of the past pretty soon. Even the self-righteous folks at Apple who once championed the compact size of the iPhone over its gaudy competitors appear to be turning over a new leaf by opting for the 4.7 inch screen for its iPhone 6.
Just like it has not returned to the 3.5 inch screen, it seems unlikely it would go back to the 4.7 inch screen for its future models.
Not Much Different In Android
The scene is not too different in the Android world either. OEMs have preferred to go for the large screen "phablet" configuration and square shape. Screen sizes have moved upwards significantly from the 4 and 4.5 inch standards and now the starting benchmark has moved to 5 inches.
Google seems to be encouraging this trend with its expected launch of the Nexus with a 5.9 inch screen. Gone are the days of the 4.7 inch Nexus 4 and the 5 inch Nexus 5. Somehow, most of the OEMs today prefer to move towards handset sizes that are not practical in terms of being able to hold and operate them with one hand. With Apple joining this trend, a reversal to smaller screen sizes looks remote.
Smart Wear May Lead To Greater Demand
The market for smart wear is also opening up and the bigger screen smart phones may just be the right stimulus for encouraging more and more consumers to invest in smart wear. After all, there cannot be much fun using smart wear on a device that has a screen size not much larger than it.
As of now, there exists a demand for screen sizes in the 4.5-4.7 inch category. People do not much favor the 4 inch screen size though these are the phones that will snugly fit into a trouser pocket. The Sony Z3 as well as the Samsung Galaxy S4 Mini are wonderful gadgets with just the right screen size but they too may become outdated with more and more OEMs preferring the minimum screen size of 5 inches and above.
Smaller Size Screens May Become Economically Unviable
The other factor is the economies of scale for OEMs. They may find it unviable to churn out such phones due to slackening demand and lower profit margins. The trend at the moment is for phablets and to an extent even Apple is likely to face the heat from bigger screen Android gadgets. People may want to stick to the bigger displays, especially when they are available at a much affordable cost.
So going ahead, flagship models are due for a big change and it may be good news for consumers as it would bring down prices. The choices too would go up significantly. So if you still want your smaller screen smart phone, now is the time to go for it.