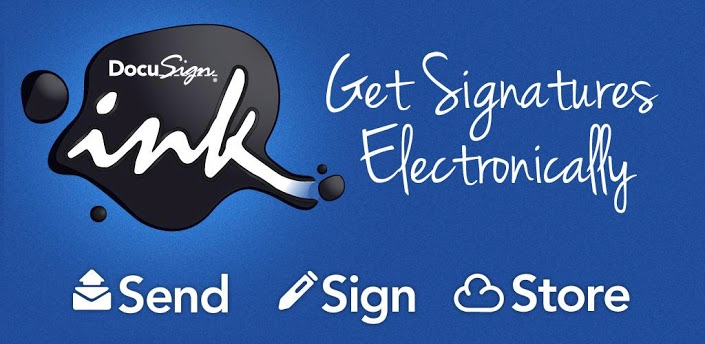 Businesses are built on the virtue of trust and can only function flawlessly when there are no delays in negotiations, agreements are signed off quickly and important decisions are executed without any waste of time. Well here's an Android app that enables you to do execute all these crucial business formalities at a pace that you never thought you could achieve. Docusign is the only app that enables you to make signatures on the go without having to lift as much as a pen. Yes, this is one of those apps that will make you feel how you ever lived without it once you have started to use it.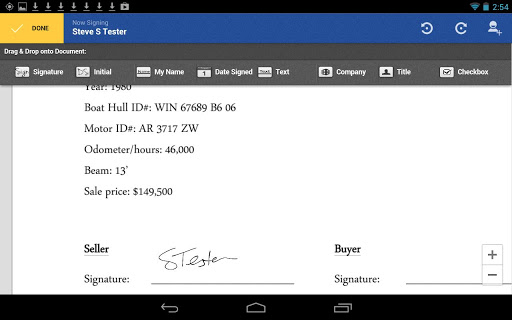 So how do we go about this?
Its simple. Just download the Docusign app for free from Google Play Store. On downloading DocuSign, you can create an account through the app and you're good to go. After having successfully created the account create a signature and this will be your permanent signature across all the important documents you sign on.
You can sign documents and send them to the required person and you can receive requests to sign as well as send requests to sign document just by the click of a button. Sounds easy right? It is. Imagine all the time you wasted in creating elaborate documents, printing them, circulating them, signing them and scanning them back to the PC for further use.
DocuSign eliminates the entire process and saves you a world of time. DocuSign is the only eSignature platform online that is ISO 27001 SSAE16-compliant and is used by over 27 million across the world in over 188 countries.
Where all can you use DocuSign?
You can use it to for carrying out a variety of vital business processes such as:
• Send contracts, invoices and work orders for signature.
• Sign school forms and permission slips.
• Sign and fill out insurance forms
• Review and approve project estimates,
• Sign lease and rental agreements.
• Authorize various documents that require approval.
• Sign your new-job offer letter and the huge tome of paperwork.
You can use DocuSign to import files from anywhere and everywhere. You can open directly documents from your mail, from your file manager, or anything sent to you via other sources of communicating like instant messengers etc.
You can easily complete face-to-face signing of all your essential contracts anytime and anyplace using your Android device.
Here's a look at the file formats supported by Docusign:
DocuSign Personal, Professional, Workgroup, and Real Estate plans.
Word Documents
PDF Forms
Images
Import and Export from Evernote, Box, Dropbox, Google Drive
PDF's
Templates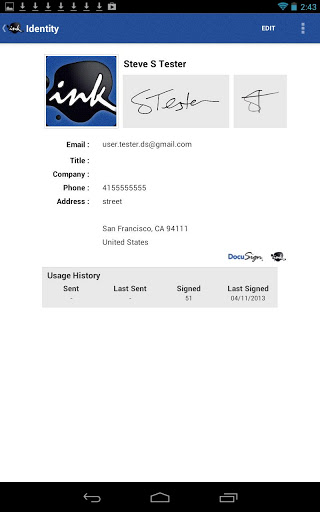 If you thought the Docusign app was only meant for you Android phone, think again because you can download the app and access your account from your Android tablet devices and personal computers and well. It is also supported by web browsers like Safari, Chrome, Firefox, etc.
Another key element of DocuSign is its high level of security as it involves important signs that can make big decisions.
DocuSign thus guarantees every document signed through it is verified as they keep a track of every document being signed off with study of the location and time.
Every document that is processed through DocuSign is encrypted and is more secure than paper. DocuSign also tamper proofs documents.
So there you go. Docusign is a fantastic business app for the corporate professionals who need to frequently engage in contractual obligations and cycle a ton of paperwork back and forth between other companies and even their own employees. It renders the requirement of carrying a pen and set of papers around with you completely obsolete. DocuSign is an extremely intuitive app with near unanimous critical acclaim on Google Play Store; hence, if you're one of those who don the corporate attire and runs off to work every day, we suggest you download the DocuSign app on your Android device right away.