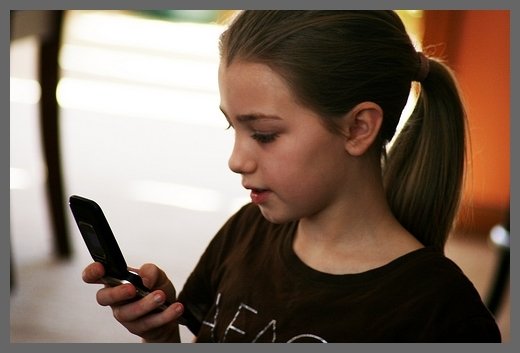 Kids come with an extensive list of pros and cons. And one con of having kids is that they like to look through your stuff. Kids are curious, and there's nothing wrong with that until they find a secret stash of pictures on your Android tablet or start visiting websites that they really shouldn't be visiting.
For that reason, you need to learn how to establish parental controls on your Android. Fortunately, it's a lot easier than you might think, and app developers have already created a range of solutions that will keep your pesky kids away from the dangers of the outside world:
Protect your internet for free with Kaspersky Parental Control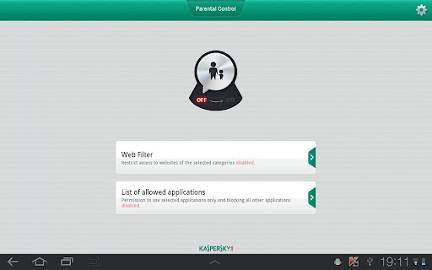 Kaspersky is a well-known name in the antivirus world. But did you know that Kaspersky also cares about the wellbeing of your kids? In fact, they care about the wellbeing of your kids so much that they've released a free parental control app that allows parents to easily filter the internet.
Unlike most apps, the Kaspersky Parental Control app cannot be uninstalled with the click of a button. You'll need to enter a code to uninstall it, and the parent will need to create that code themselves.
Along with blocking adult-oriented websites (and specific websites as chosen by the parent), the Kaspersky Parental Control app can block the usage of certain applications. So if you don't want your kids to see what's new on Grindr, then you can use the Kaspersky Parental Control feature to prevent that app from being opened by an unauthorized user.
Download Kaspersky Parental Control from the Google Play Store for free here
Kids Place Parental Control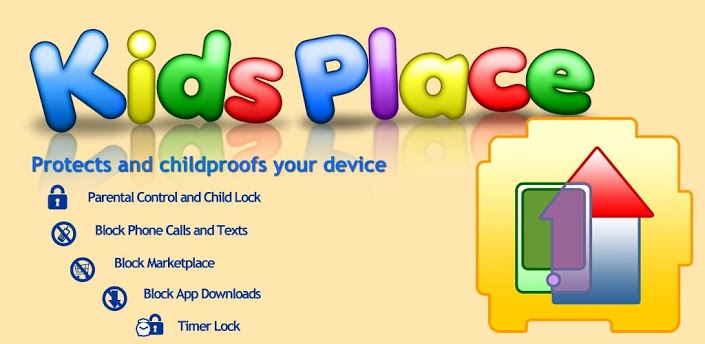 An Android app called Kids Place is one of the most popular parental control apps available today. After installing Kids Place, you can block phones calls, texts, app downloads, and the marketplace. You can even setup a timer so that your kids don't end up using your phone or tablet for the entire day.
I like Kids Place because it prevents kids from reading your texts or accidentally calling 911 or doing other embarrassing things. It's also free, which makes it a real winner in my books.
Download Kids Place Parental Control here
Care4Teen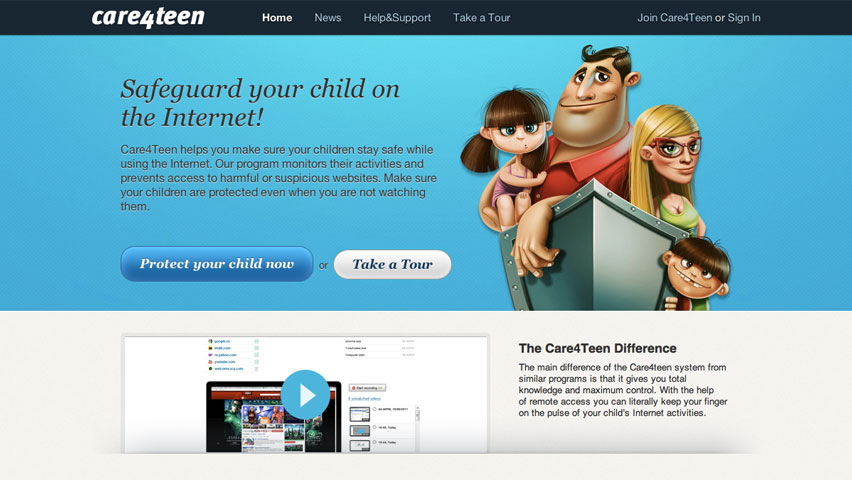 The final parental control Android app on our list is called Care4teen. And as you can guess by the name, it's more teen-oriented than kid-oriented. It provides an Orwellian level of control for parents, as it allows them to:
-Track children or teens using GPS monitoring
-Look at all the app usage and online activity of their kids
-Force kids/teens to access a safe web browser
-Monitor what their children are doing online in real-time
-Check who the kid has communicated with online
-Check what SMS texts the kid has sent and received
-Monitor any phone calls that have been made
Yikes! If my parents had that level of control over me when I was a teen, I would have been in big trouble. If you install that app on your teen's phone, you'll instantly become the most-despised parent in the world. But if you just recently gave a phone or tablet to a younger child, then installing Care4teen is a good way to keep track of your youngling.
Of course, many parents may choose to use Care4teen simply to access the GPS tracking to make sure kids are safe – who cares about the texts your kid is sending and receiving?
Customize your Google Account to check for a PIN for all purchases
Instead of installing a parental control app, try just changing the settings on your Google account. Go to your Application Manager screen and look for your Google Play Store app. From the settings menu, tap the Use PIN for purchases section and then apply those changes. You'll also want to set or change the PIN from that same page.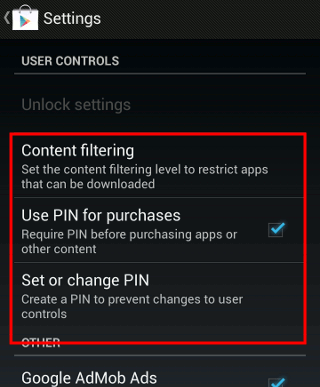 If you don't want to enter a PIN every time you need to install an app, then consider creating a Google account just for your kid(s). Then, setup multiple users on your Android smartphone or tablet (this requires Jelly Bean 4.1 but it's fairly easy to do) and let your kids sign into that account whenever they're using your Android. Simple!
Let your kids use a prepaid credit card
If you don't have a problem with your kids using Android, but want to make sure their spending doesn't get out of control, consider giving them a prepaid credit card. That way, they can only spend a finite amount of money at the Google Play Store, but they still get to download the apps they want.
Not only do you teach your kids about paying for apps from the Google Play Store, but you get to teach them an early lesson about the dangers of credit consumption. Win win!