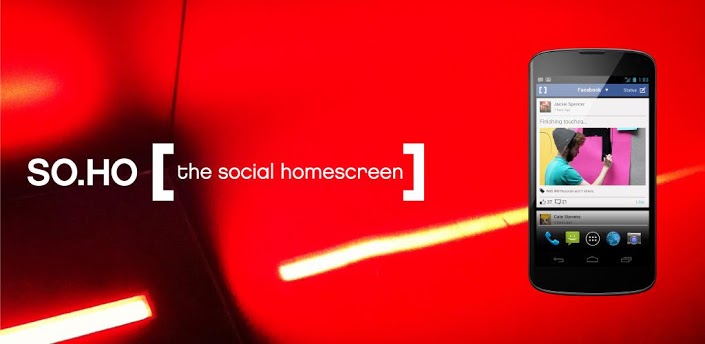 Facebook has recently made a lot of progress. They're redesigned their interface so that Timeline is a bit tweaked and phone usage of the app is easier and faster. There's a new app now that provides you with a simple convenient interface to use Facebook and Twitter and update them together. It's known as SO.HO or Soho Social Launcher.
Most users of smartphones are big into Facebook and now Twitter has caught on to. It can become quite complicated to manage more than one social networking account together. Since Twitter and Facebook offer different services, people tend to be on both instead of just one. Flipping screens between them is time consuming and just plain annoying. Soho Social Launcher is the one-stop solution to the problem.
Launching and installing the Soho Social Launcher Android app are both very simple. Since you know that it helps in integration between Facebook and Twitter you must be thinking that the app has to be complicated to install with a lot of steps. Already installing Facebook and Twitter apps was time-consuming and you're not sure you want to go through that again. Well, you'll be pleased to hear that this is certainly not the case here.
Just download SO.HO from the Google Play Store and then this beta phase free app can be installed on your device. Now simply replace the launcher of your Android device with Soho. This is when your revamped full screen social experience officially begins. So tweet, like and post from one common social platform without having to spend hours shuffling back and forth between them. Soho Social Launcher is built to circumvent all that. Moving between Twitter and Facebook on this app is just a single tap away. So it's like parallel running two accounts.
The Soho Social Launcher Android app provides you with your Facebook News Feed right on the home screen so it saves you from having to navigate to reach the page you need. So the time it takes to tap into the Facebook app and then scroll through the News Feed is saved. It makes the time consuming process redundant. Additionally, SO.HO also provides Twitter stats, that is basically all the people you follow, their tweets under one common platform. These too appear on the home screen. So again, one no longer needs to navigate to the Twitter Feed and then view theses stats.
Choosing between Facebook and Twitter is very simple. One tap and you enter the particular profile that you want. It allows you to seamlessly integrate two very different services together.
However, the magic doesn't end there. The app gives you the opportunity to do more. Sometimes you want to write a new Status message or you just want to Tweet something but the energy it takes to open the app and then open a new box and type it out just doesn't seem worth it. Now don't worry. Just unlock your phone and from the home screen itself, Soho Social Launcher allows you to directly type out the message.
The Soho Social Launcher Android app has a sleek and highly user-friendly interface. The app design includes graffiti that is very catchy and looks really pleasing to the eye. So basically you're doing more than just integration. The bottomline is that this social launcher is not just meant for a few days worth of aesthetic pleasure, but for endless hours of fun-filled engagement with your peers! After all, isn't that what social networking is about?