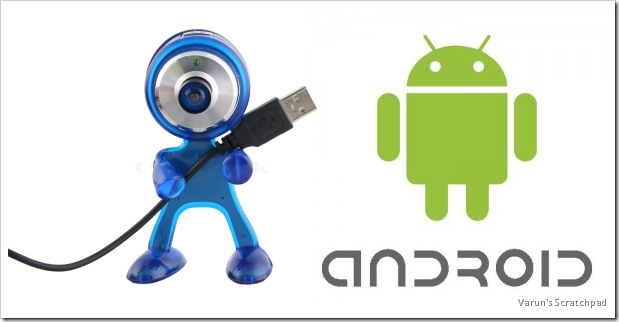 The Android platform is the OS of choice popular with the majority of smartphone and tablet developers around the world. However, there is also a tremendous fragmentation in features available to Android device users made by different manufacturers. One of the common complaints of the Android community is the lack of an efficient video chat support on their devices to enable webcam use with Skype, Google Talk, Facebook, etc. Certain app updates for these video chat applications often render certain older Android devices incapable of video chat support. But with the right webcam app present in your Android's arsenal, you can overcome this problem and utilize your device's in-built video camera for a convenient and smooth on-the-go personalized chat experience.
The first you need to get started is choosing the right app to download, which is not a difficult task to manage with several new well-reviewed webcam apps in Google Play Store. Identifying the pros and cons of each app and assessing its compatibility with your Android device is essential. Most of these apps require a type of downloadable client program on your computer and install it before you can begin using the app for webcam access. This mechanism is carried out as a simple hack which tricks your computer into identifying your Android device is an extension for a webcam which can be used to access Skype, Facebook, Gmail chat, etc.
We bring you the top 3 webcam apps available for Android to choose from which will help you resolve the video chat issues in your device.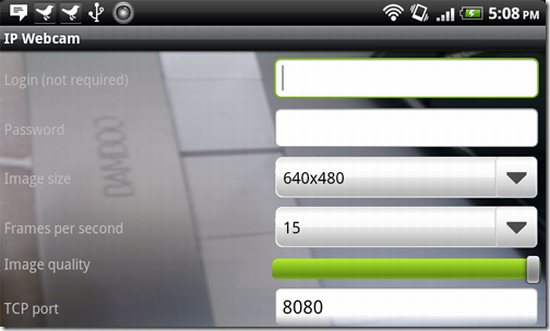 The IP Webcam app is very easy to setup with only a few Skype configuration adjustments required to get it running smoothly on your Android device. However, it works exclusively over your Wi-Fi network. The IP Webcam lets you use your Android device as a network camera and gives you multiple options for viewing. It also has cross-platform compatibility and can be viewed perfectly on your web browser or VLC player. When coupled with the tinyCam Monitor app on another Android device, you can use your device for live video surveillance and security monitoring. Also, it currently does not support audio. Some of its key disadvantages are the lack of audio support and its incompatibility with Google Talk.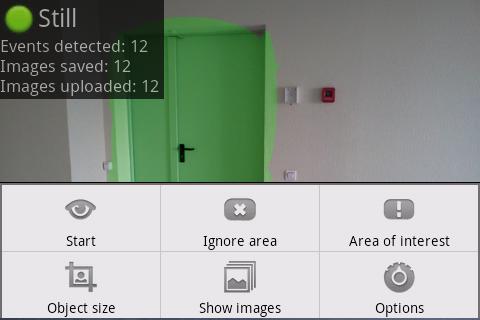 The biggest advantage of the iCam app is its remarkably simple setup. To get started, install the app on your desktop and then download it from Google Play Store on your Android device. Now enter the iCamSource's menu and choose your camera. To establish a good security protocol, you must now assign a username and password for your camera to regulate user access.  Only edit motion detection sensitivity settings if required. The iCam app also sends push notification to your Android device on motion detection and instantly click a number of pictures to show you any significant event that happened in front of the camera. Multiple cameras can be set up accordingly in case you need to monitor several places or one place with different camera angles.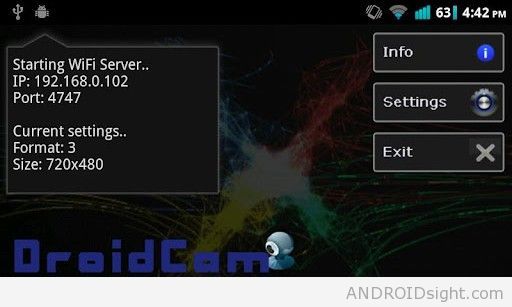 DroidCam is another popular webcam app for Android devices. Its interface is much more user-friendly when compared to IP Webcam, and it is simpler to install and operate. However, the free version of DroidCam does not offer video format or resolution customization access. To use this app, you must first download a computer client available in both Windows and Linux versions. DroidCam operates over your Wi-Fi and Bluetooth networks. It works perfectly in sync with Google Talk, Skype, Facebook, Yahoo, etc. One of its key disadvantages is its choppy audio