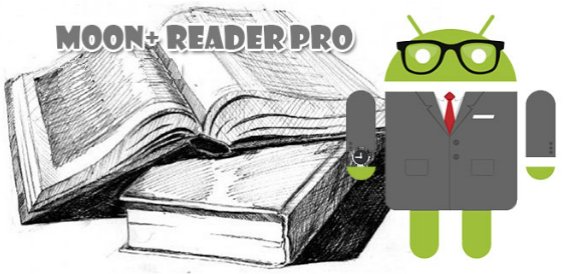 No – the fact that I keep writing about reading apps is not because I love love love reading (so much that I ended up becoming a writer to give more reading content to the world! I am kidding, of course), is not the reason why I keep covering different reading apps. It is because I would like to give you as many options as I can so you have a range of apps to choose from. Really. Okay fine, it is also because I love reading.
Today's app is called Moon+Reader Pro. The obvious question in your mind is why you should download this app in a world where you already have a significant number of reading apps. Well, the answer to that is because it is not just one of the many reading apps that lets you read – Moon + Reader Pro lets you customize what you read.
Are you wondering how? This is because it is a better designed book reader with powerful controls and full functions. It supports epub, pdf, mobi, chm, cbr, cbz, umd, fb2, txt, html, rar, zip or OPDS formats.
It has innumerable functions which you might get tired of reading because they are just so many, still, here they go:
• Full visual options: line space, font scale, bold, italic, shadow, alpha colors, fading edge etc.
• 10+ themes embedded, includes Day & Night mode switcher.
• Various types of paging: touch screen, volume keys or even camera, search or back keys.
• 24 customized operations (screen click, swipe gesture, hardware keys), apply to 15 customized events: search, bookmark, themes, navigation, font size and more.
• 5 auto-scroll modes: rolling blind mode; by pixel, by line or by page. Real-time speed control.
• Adjust the brightness by sliding your finger along the left edge of the screen, gesture commands supported.
• Intelligent paragraph; indent paragraph; trim unwanted blank spaces and lines options.
• Keep your eyes health options for long-time reading.
• Real page turning effect with customized speed/color/transparent; 5 page flip animations.
• My Bookshelf design: Favorites, Downloads, Authors, Tags; self bookcover, search, import supported.
• Justified text alignment, hyphenation mode supported.
• Dual page mode for landscape screen.
• Support all four screen orientations.
• EPUB3 multimedia content support (video and audio), popup footnote support
• Backup/Restore options to cloud via DropBox, sync reading positions between phones and tablets.
Along with all this, it also highlights texts and is available in 40 languages. This is not all, it also supports online ebook libraries and personal calibre ebook server.
Not tired yet? Well, those were just the standard features. Moon+Reader Pro has separate pro version features:
– Ad-free, faster & smoother
– Shake the phone to speak (Text-to-speech, TTS engine support)
– PDF support, fast & speech compatible
– Reading statistics function
– More beautiful themes, background images and fonts
– Customize reader bar function
– Headset & Bluetooth keys control
– Multi-point touch support
– Option for password protection at startup
– Book to home screen shortcut
– Annotations, highlights & bookmarks share support
– Open/Backup/Sync/Download/Upload book files via Dropbox/GDrive
– Widget shelf support, group your favorite books, put them to desktop as widget
– Tilt to turn page with customized actions
– Customer email support
PDF features in Pro version:
– Fill out PDF Form
– Highlight, annotation, handwriting
– Smart scroll lock, smooth reading experience
– Night mode support, 6 additional PDF themes available
– Dual-page mode for landscape screen
– Speech, auto-scroll compatible
– Read statistics, sync, flip animation available
Tired? I am not going to say I told you so! What I am going to say, however, is that you should not waste another second downloading a reading app that is not as awesome as Moon+Reader Pro.