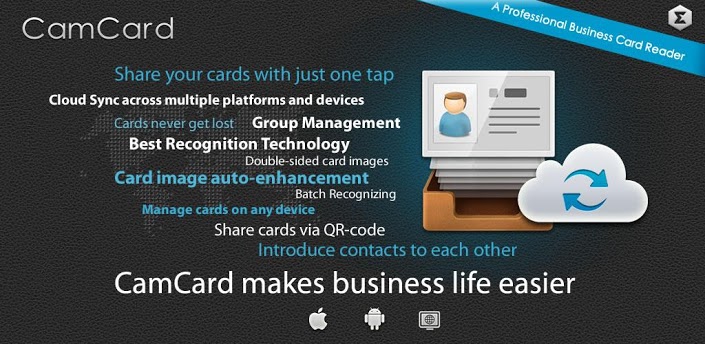 We've always been overburdened and overwhelmed by the pressure of increasing the size of our wallets by stuffing them with cards. What makes it worse is our inability to recollect the one we are looking for when we really need to use them. What if we told you there was an app to overcome this nuisance once and for all and import all your business cards onto your smartphone? Well, the CamCard app for Android is an app to help you do exactly that and make life much more convenient for the ever-busy people of the corporate realm. This app will render all those special space-occupying card holders made of leather and tin completely obsolete with its utility-centric features.
When we say app, it obviously implies it having extensions. But not just any extensions; it utilizes cutting edge technology that redefines the experience of having and sharing a card.
To explain its core feature, the CamCard app identifies the various parameters and information on a business card, reads it and transfers it systematically into your phone.
How does it work?
It's simple, through the Camcard app homescreen, you direct your Android device camera to the front of the card as though you're taking a photo of the business card, and the app will do the rest of the work.
Moving further into a more elaborated set of features offered by the CamCard Android app: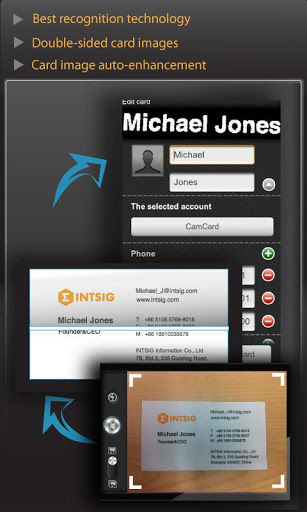 It recognizes over 16 languages including English, Simplified Chinese, Traditional Chinese, Korean, Japanese, French, Spanish, Portuguese, German, Italian, Dutch, Swedish, Finnish, Danish, Norwegian and Hungarian.
All your cards are saved in the Cloud, securely and privately.
In case you happen to delete cards you can easily restore them via the backup taken by the app
Another great feature is that the app recognizes the impression on the card and merges it with exiting contact.
You can save cards into the iPhone address book, Gmail or other similar accounts.
It auto-crops card images as well.
Batch Scanning is another key function of the app as it takes in a lot of data in one shot.
You can categorize cards into different groups and accounts.
Sync the cards across multiple channels and levels and cloud sync it too.
It auto-enhance the business card image.
Other than the conventional sharing of contact information via Email, SM it can also be done via the QR Code.
It auto-rotates card images, which is again a very basic but imperative function.
A lot of cards nowadays have QR cards and Cam card recognizes the QR Code and shares it accordingly.
You can export all cards to vCard or Excel files
Another great corporate feature of this app is being able to make LinkedIn searches and sending invitations accordingly.
It supports a card Holder to manage all your contacts including making phone calls, sending SMS, sending emails, browsing web pages and locating address on map etc.
It also supports a Card Holder system with passcode protection, searching, sorting and grouping.
Create a card with card templates: when creating a card manually or importing a contact from phonebook, a card will be created automatically. You can choose from different card templates.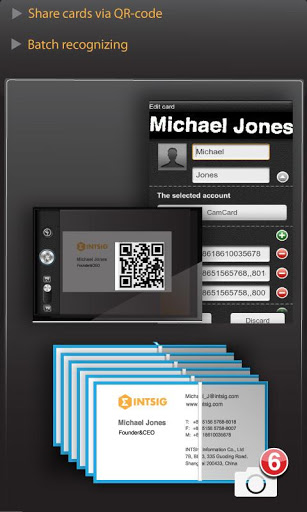 So there you have it – a comprehensive set of features that can make your corporate identity a lot more accessible and convenient to exhibit. CamCard happens to be a paid app; however, its price tag is completely justified considering the costs of engineering that went into the app. You can also download the free version of this app to test out its basic features, which will do more than enough to impress you. It is extremely easy to use and gives results instantaneously. Buy it today and get rid of the dozens of cards scrambled in your briefcase and wallet.