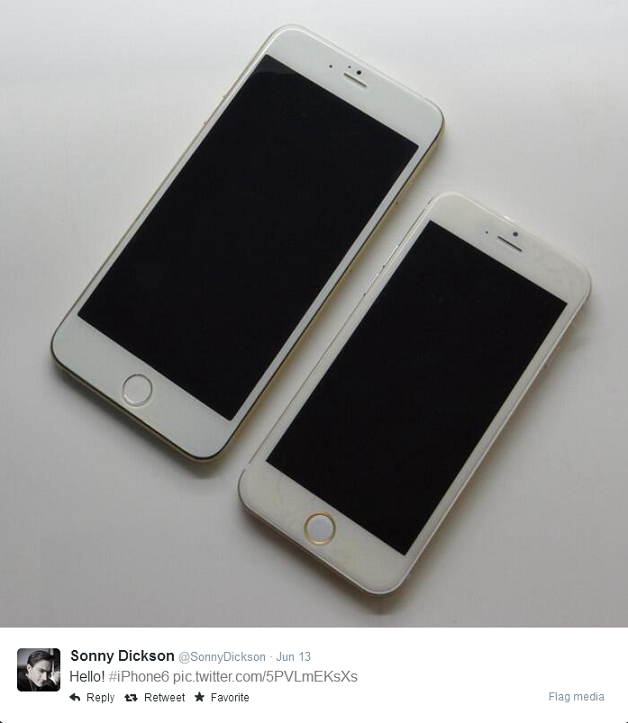 The iPhone 6 is coming in September.
Apple hasn't announced it or acknowledged its presence in any way, shape, or form, but it's definitely coming.
Now, the man who became famous for leaking the iPhone 5s before its announcement has apparently leaked the iPhone 6.
That man is Sonny Dickson, who recently tweeted pictures of two iPhone 6 models.
One iPhone 6 model is 4.7 inches while the other is 5.5 inches.
Side by side, it's difficult to gauge the size of the smartphones. However, the proportions look largely the same as previous iPhones – including a relatively thick bezel around the outside edges.
Sonny Dickson tweeted two photos: one of the front of the iPhone 6 and one of the back. As with any leak, lots of people are calling them fakes – especially since there's no Apple logo on the back of the phone.
However, Sonny Dickson is not your run-of-the-mill Twitter user. He has been a reliable source for leaks in the past and apparently has some sources or another. This leak may or may not be legit, but it's the most reliable leak we've seen thus far.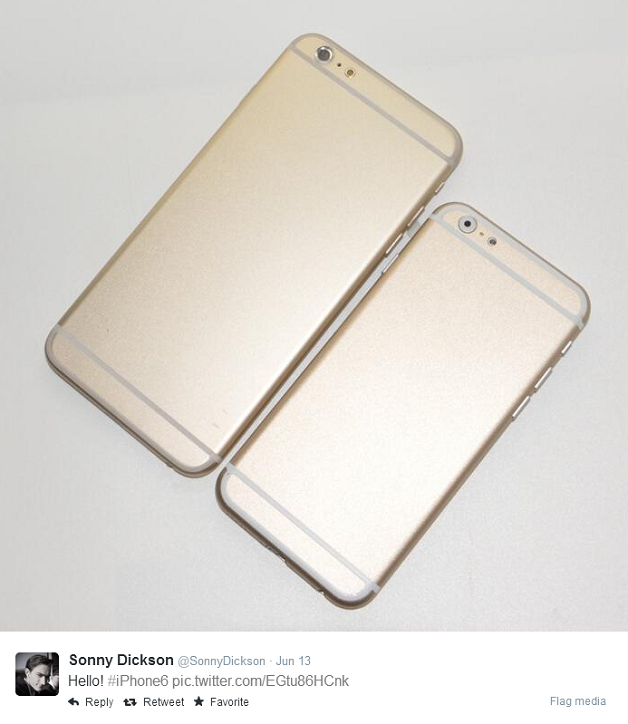 Some notable things about the iPhone 6 "leak" include:
-The lack of an Apple logo on the back
-A power button can be seen on the right hand side of the device, which indicates that Apple may have moved the power button from the top to the side
-There are three sensors on the large iPhone and two on the smaller iPhone (look at the dots around the upper earpiece)
-The phones look relatively thick and are not as streamlined as other modern smartphones, although it does appear that Apple shrunk the bottom edge bezel on the larger phone
-The iPhone has been in the 4-inch range for a long time and Apple seems committed to making small, reliable smartphones because it believes 4 inches is the "perfect size". If these two models are accurate leaks, then this is a big shift for Apple that could alienate some of its fans.