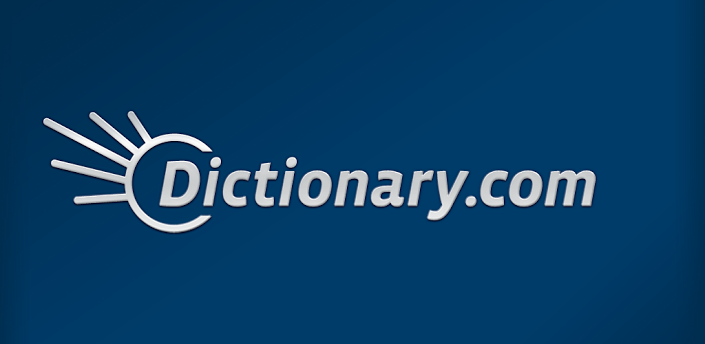 Whether you're an English PhD or a middle school student, names like Webster, Oxford and Glen are ones we are all privy to as the prominent storekeepers and purveyors of meaning to words. And then came along another titan to join this lofty bunch known as Dictionary.com. It compares equally to the likes of its forefathers and more than just lives up to the hype of its superiority and diversity of features offered by it.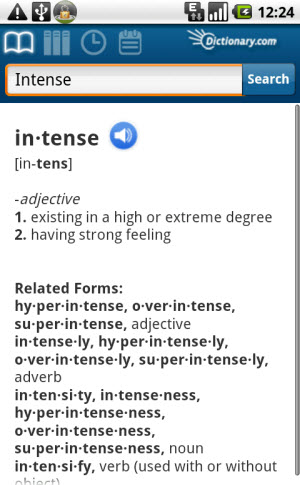 The book version of the former dictionaries has helped everyone and by everyone we mean everyone in expanding their purview of knowledge. However, Dictionary.com has emerged as the single largest source of language knowledge and word etymology that after a point it becomes an addiction, something our school teachers and moms always wanted.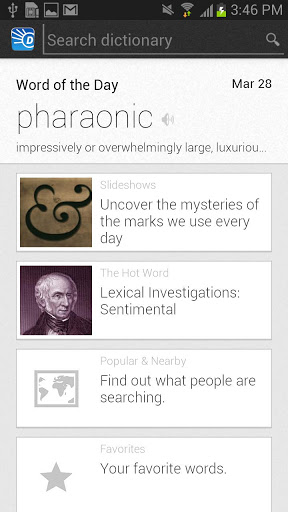 Dictionary.com extends the same plethora of awesome features to the Android world by giving you a one-of-a-kind app that has become one of the most dominant language tools in the Android app market since its debut.
Dictionary.com is rifled with a world of features other than just a simple word search bar that gives you a meaning of the unknown word you are looking for.
The core feature of the Dictionary.com app is to provide in-depth and elaborate explanations of over 2 million words with their related usage as well as synonyms and antonyms.
Further, you have a 'daily word for the day' that comes to you on the app screen with a detailed explanation to sharpen your vocab wit regularly.
A widget of the Dictionary app can be added to your home screen for ease in use and to avoid going to the app again and again.
If you are unable to read out the right way of pronouncing a word, Dictionary.com has been made compatible to audio as well to give you the appropriate pronunciation.
In addition to audio pronunciations, there also is an integrated voice search which enables you to find words by simply saying it out loud.
There are features like 'hot word' and 'slide shows' that explain many language and literature related intricacies.
Further than word meanings and pronunciations, you also have access to identify idioms and phrases from around the world with their proper explanations and pronunciations.
The Dictionary.com app also gives you spelling suggestions in case you misspelt a particular word so that you can still look it up by clicking on the suggested word instead of going to the search bar and typing it again.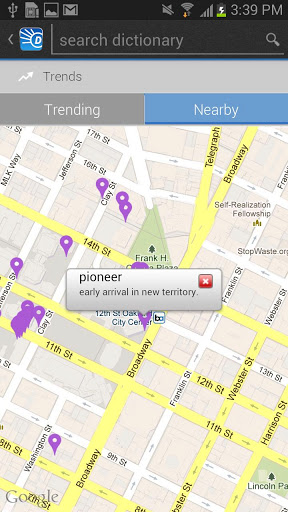 It also offers you the proper etymology and word origin for a particular word and letting you have a more profound understanding behind the history of the word you are looking up.
Dictionary.com also gives you spelling suggestions in case you misspelt a particular word so that you can still look it up by clicking on the suggested word instead of going to the search bar and typing it again.
Dictionary indigenously stores your favourite words. If you like the meaning of a word or think you can use it anywhere in daily dialogues and chats you can easily favourite it to view it in your list later on.
Looked up a great word and forgot to write it down? Or can't remember what it meant? Well, Dictionary.com now comes to your rescue and stores it for you in its app history so you can check what words you looked up anytime.
But it's not just the expertise over Standard English language that makes Dictionary.com so popular worldwide. Dictionary.com also delves into slang content, abbreviations and acronyms too.
Another great feature of the Dictionary.com app is how it uses the integration functionality with maps. Now for those of you who may wonder how maps and looking up words is possibly interconnected? Here's a brief rundown:
It tells you what people in the area are searching or is there a new word on the block that you should know about.
Other than commonly looked up words mapped to specific locations, you have words that are trending area-wise and on a global level as well.
IPA and phonetic pronunciations are also provided by the Dictionary.com app so that you master the language like a true professional and flaunt your knowledge and fluency in English with the help of this simple app.
It even provides explanation of a multitude of medical, financial and legal terms that give it a massive competitive edge over other plain Jane thesauruses and dictionaries in the Android app market. With an impressive rating of 4.6 on the Google Play Store, the Dictionary.com is one of the most powerful language tools you can install absolutely free and get amazing value from.