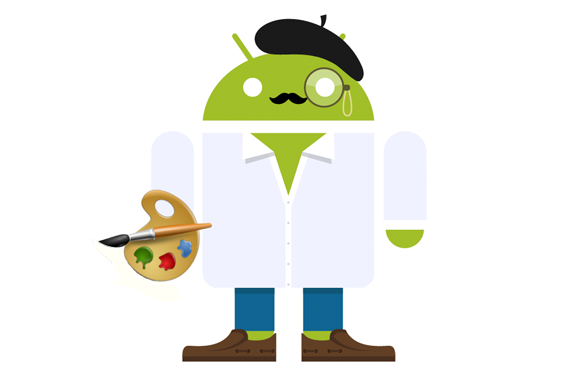 Technology has made it possible for children and adults to learn from almost anywhere. With mobile devices being more integrated into classrooms, educators are looking for more ways to apply them to the learning process because these devices can add a whole new dimension to the subjects and make them interesting. For any kind of help that a student needs these days, you can bet that there's definitely an app for that.
Thanks to the imaginative methods used by many developers, the innovative solutions derived help in providing a fresh approach to even the most boring of subjects. Just download these apps on your Android phones and tablets and kickstart an educational revolution.
Teach the Little Ones with How to Draw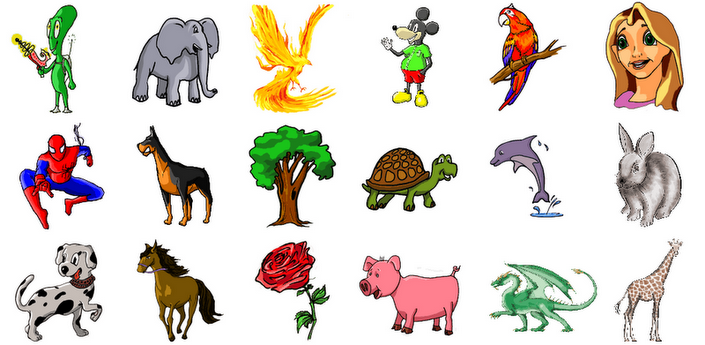 When you looked at nice colorful pictures did you ever feel like "Oh! How I wish, I too could draw such pictures of any kind fill them with color and bring them to life". You did not know about classes that taught you to draw, or if you knew they were far off or not suiting you some way or the other.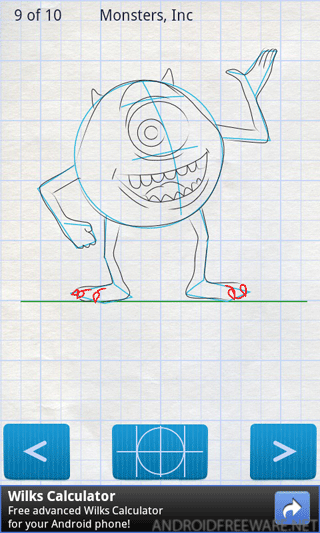 Well, there's reason to be happy because now you can do it anytime anywhere with the help of your Android mobile device. All you have to do is download the app and learn how to draw with the appropriately titled How To Draw app. Voila! You have a beautiful new virtual canvas in front of you artist in you comes alive. It will teach you like a personal art teacher how to draw dozens of different objects and create awesome pictures.
Features & Functionality
You can learn to draw on this easy to use app thanks to the following requirements:
Its interface is easily navigable with no skills required to understand the
Make use of your fingers or stylus for more accuracy
You can draw all that you like including cars, animals, flowers, characters, cartoons or anything else you fancy
It's self-teaching – you may take your own time
Ask for a re-explanation how many ever times you want.
The MAIN FEATURES of the How to Draw app include:
The app contains lot of drawings such as flowers, planes, cars, dragons, animals, cartoon characters and much more.
Each drawing is divided stepwise which are easy to follow.
Take help from the tool bar.
Use your fingers or stylus.
You can draw directly onto a guide, viewing your sketches on top of the guide or viewing them as separate layers, like in tracing paper.
Make use of the array of different brushes it has to offer.
Fill in colors.
Start with a few lines and strokes and end up with the complete picture.
You can use your own imagination and draw and save it and send to your friends or wherever.
Parents can use it as a drawing lesson for their kids.
The app requires Android 2.0 and up for running and runs on its current version of 3.6.
What's new in the app?
New quick and smooth tools.
Black is the new default colour of the pencil.
You have more drawing space on the screen.
Android 4.0 full support
App crash at launch fixed.
Certain android permissions are removed.
10 new drawings have been added.
Age no bar.
So waste no time and help your child pursue one of their favorite passions in an easy no-frills way by downloading the How to Draw app. Moreover, it's FREE and caters perfectly to the understanding of kids.
Learn the Classic Art of ORIGAMI on your Android device
ORIGAMI is defined as the world popular simple art of paper folding. Not only that, but creating different things from these foldings. As a kid, you probably thought it was magic when your art & crafts teacher created an airplane or a boomerang from a plain A4 sized paper. Although you later understood how it actually was an art of paper folding to come up with some really creative outputs, it still never was an easy task to do it on your own.
These simple yet magnificent human-engineered delicate creations could range from a flower, your favorite set of cars, furniture, decorations or anything that you could possibly conceive that would make your child's room or front porch look good.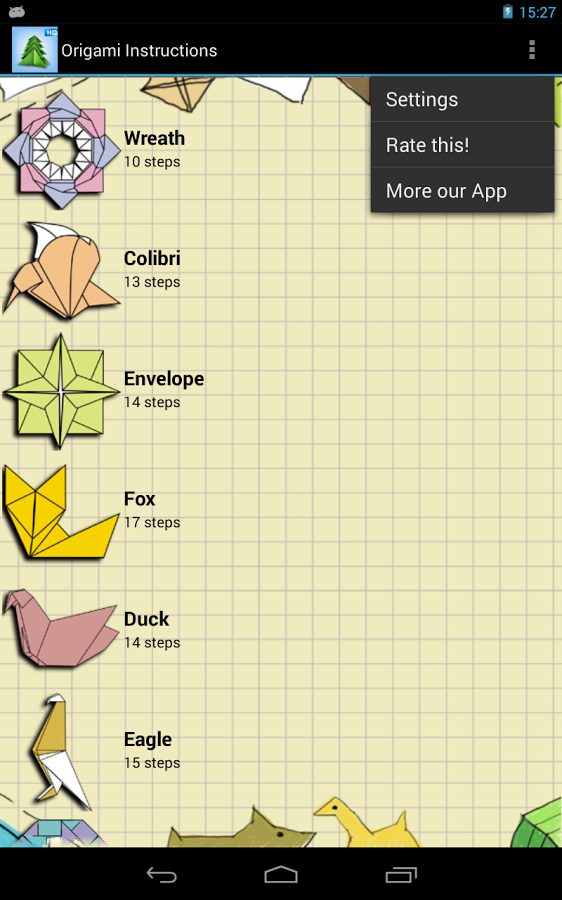 With Android technology playing an important role in the growth of any matter and paving its way in all sectors, users have a lot to look forward to when it comes to learning. This Android technology is actively being used in the development of several key educational tools as well for people of all ages and with newer and innovative methods to learning concepts, users are beginning take a keen interest in what once seemed mundane or routine activities to them.
Well, here is some good news for you. The ingenious educational app developers on the Android platform have come up with a remarkable and creative app named Origami Instructions that allows you to recreate all your favorite paper-made decorative contraptions at home.
All you need is your Android powered mobile device to enjoy this service. There are various apps for virtually everything available at just a click for you and this is a neat little tool to help your child get a cool new learning experience to hone his/her creative skills. The Origami Instructions app is appropriate to bring out the ideal and best fantasy and creativity within you.
Features & Functionality
On downloading the Origami Instructions app from the Play Store, launch it and dive right into the world of creative paper folding.
Just one click and instructions are downloaded. You start off with a few folds, follow the instructions and end up with a masterpiece
Make your choice of article from the huge list available to you.
The problem every single one of us encountered was the trouble of understanding the complications behind 2D instructions on a piece of paper. The instructions here are simple to follow and are interactive so that you can never go wrong with them folds with all those different angles and views.
Complicated steps are animated in the instructions for you to get a different feel of the object to ensure you are on the right path.
Loading new instructions from the webpage store is enabled through Origami instructions.
Each step is explained in detail.
Each set of craft and object has a simple and an advanced model.
Start by folding a piece of paper, a few creases here and there and you've got some of the most amazing articles in your hands. No, it's not magic and nor is it a figment of your imagination if asked by any one; just a masterpiece of your creativity.
So make use of this app anytime, anyplace at your convenience and put your creative craft skills to good use.
The key requirement for your Android device is for it to be running an Android OS 1.6 and above.
It currently runs in its 1.3 version and eats up only about 4.6 MB of storage in your Android device.
Learn yourself and teach others too through this highly interactive app that teaches you the wonderful art of Origami, which will make you wish your school craft teacher taught you this way.
You can keep redoing folding and unfolding till you get it right and work at your own pace without feeling lost. Make use of the tool bar given at the sides and you'll be a master craftsman in no time.