uTorrent is generally considered to be the world's most popular BitTorrent client. Now, it looks like the popular torrenting service is making its way onto Android devices. A uTorrent beta recently appeared on the Google Play store, which means anyone can download and install the popular program to gain instant access to their favorite (legal!) torrents.
Using the uTorrent app, anybody can go to a torrent website, click on a torrent file they want to download, and then watch that file appear in the app. The app's interface displays relevant information like download speed, percentage completed, estimated time of completion, and more.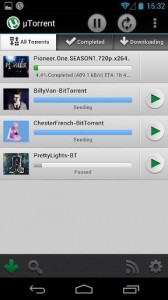 One major reason why uTorrent is so popular is its low-resource usage. It's a very lightweight program that runs silently in the background of your system, making it a popular choice among both low-end and high-end PC users. It's expected to work particularly well on Android smartphones, which are less powerful than most PCs but are optimized for performance.
Unlike other torrenting apps for Android, the uTorrent beta will not impose any download limits or speed restrictions on users. It also doesn't show advertisements – something that many other free BitTorrent apps seem to do.
While we can only recommend using uTorrent to download legal, free-to-share files, there's nothing stopping you from downloading the latest music, movies, and games on your device – except for the fact that it's probably illegal in your country. It's also easier for IP monitoring companies to connect your downloading habits with your phone, which is a very bad thing if a lawsuit is filed against you.
Ready to check out the uTorrent beta for yourself? Click here!