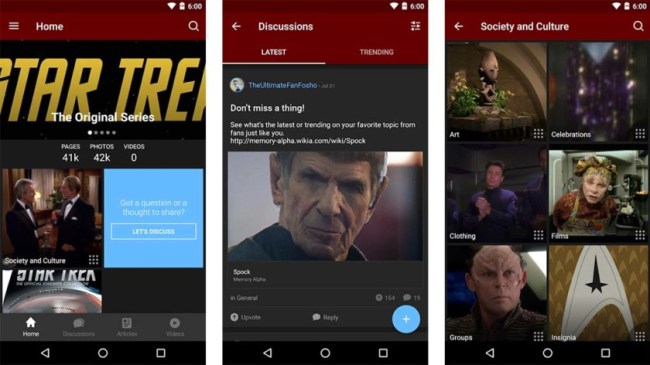 This year marks the 52nd anniversary of Star Trek and it's mind-blowing how the franchise has lasted this long. It's beyond gold!
Although the franchise doesn't have a movie for quite some time, fans continue to admire the story and its large cast of memorable characters. More importantly, it's not just the movies that keep the franchise alive. They've got tons of Star Trek-based products such as tee shirts, miscellaneous items, collectible stuff, and mobile apps!
Here's the list of the best Star Trek apps on Android that will let you enjoy the series more.
Comixology
If you're a die-hard comic reader, then there's no way you haven't encountered this app yet. Comixology is the best comic book app out there. The app takes reading to a different level by offering different types of viewing options. You can even download the comics in advance so you can read them offline. Comixology, however, does not come for free. You have to pay about $5 to $10 for a single comic. If you want a monthly unlimited reading, the subscription is only $5.99.
Movies Anywhere
Movies Anywhere is another excellent video streaming app comparable to Netflix and YouTube. However, it has more unrestricted videos and a wide collection at that. The app allows you to log into Amazon Instant Videos, Google Play Movies, Vudu, and more. The app has a cool UI, has Chromecast support, and very stable. With Movies Anywhere, you can now watch your favorite Star Trek movies all over again.
Fandom for: Star Trek
This is a pretty obvious app but who cares, our love for Star Trek conquers all. Fandom for Star Trek is an excellent app for all its fans. It's basically a community database for the Star Trek franchise having all the accurate information you need from characters, events, and the story. What makes it more lovable is that you can communicate with other fans of the franchise. Fandom for Star Trek is 100% free for download and use. It has apps though, but they're not that annoying.
NTSEnterprises apps
NTSEnterprises is a Google Play developer that makes apps somewhat relatable to Star Trek. Their apps usually include Star Trek themes, soundboards, live wallpapers, and more. However, most of their apps are only usable using Total Launcher. Total Launcher is not as customizable as Nova Launcher, but it has the best looking and most functional LCARS theme on Android. NTSEnterprises apps usually come for free with an option to go premium for about $5 or less.
Trek Episode Guide
This app is a better source than a comic book. The name speaks for itself. Trek Episode Guide has a summary of every episode of Star Trek shows and movies. You can simply browse and see what various episodes are about before actually watching it. It also has a good LCARS UI which is a good pair with Total Launcher with NTSEnterprises if you want to transform your phone to an absolute Star Trek universe. Trek Episode Guide is completely free without annoying ads and in-app purchases. It's just developed to treat the fans.
So, if you want Star Trek to conquer your phone, launch Google Play Store now and download these excellent apps. Transform your phone like a true Star Trek fan and go… "Live Long and Prosper."