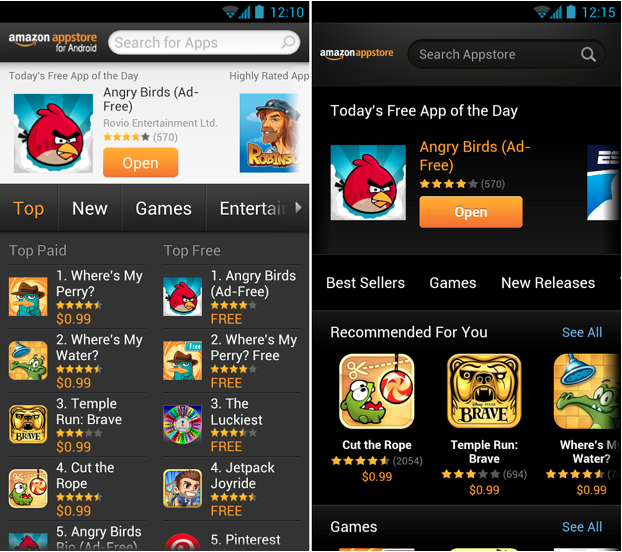 Two years after online retail giant Amazon released its app store for American Android users, it has finally become available up north in Canada.
For years Canadians have been greeted with rude messages at every attempt to access the Amazon App Store. No, you can't access the app store, you poor naïve soul. Now go back to your igloo and mourn.
Finally, in May 2013, the Amazon app store became available to Canadian Android users.
Here's how to download it
Step 1) Open your Android settings menu and ensure that your Android allows the download and installation of apps from unknown sources (Found under Settings>Applications or Settings>Security depending on your device)
Step 2) Download the Amazon App Store from here (not yet available on the Google Play Store)
Step 3) Let the downloaded file install the App Store on your device and check through all the confirmation pop-ups
Step 4) Open the App Store and sign in with your Amazon.ca account (if you sign in with an Amazon.com account you will encounter problems)
Step 5) That's it! You're good to go
Why would you download the Amazon App Store?
Really, getting the Amazon App Store in Canada is kind of like the moment Target replaced Zellers: sure, some people got excited, but really, Target is just another American retail store like Wal Mart.
In that sense, the Amazon App Store is Target and the Google Play Store is Wal Mart. Amazon's App Store has a decent selection of apps, but nowhere near as comprehensive as its larger brother.
But here's one thing I like about the Amazon App Store: it has a 'one free app per day' promotion that actually reveals some pretty good premium apps to Amazon users. When you download these apps, they register as purchases that you bought for $0.00, which means you're definitely getting paid applications for a one-day price of free.
Other than that, some apps cost less on the Amazon store than they do on other app stores. And you may be able to find some apps that are exclusive to the Amazon App Store, although these apps are few and far between.