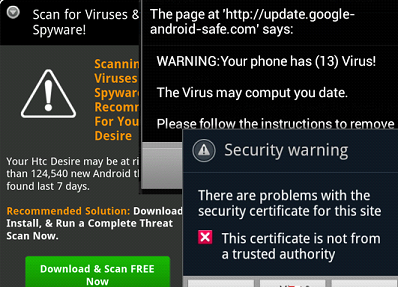 What is an Android virus?
Android virus is a term to describe a wide range of malicious applications that kept on attacking the Android operating system. Unfortunately for Android users, these malicious applications are increasing in numbers so the list keeps on expanding. The latest Android malware called GhostCtrl, opens the backdoor on your Android device and allows the attacks to keep track of your audio/video and steals all your important information. Some of these Android viruses are listed below:
NotCompatible virus: this is a dangerous Android virus which acts as a proxy. It connects to your server and waits for specific commands.
Lastacloud virus: this is a Trojan horse infection that is also known as Lastacloud virus that spreads through WhatsApp and Android browser apps. It presents itself as Update.com.whatsapp.update and com.androidbrowser.update.
Android Police virus: this a newly-developed Android virus which is capable of infecting Andoroid operating system
Android ransomware: this is a malicious mobile phone threat that makes use of clickjacking technique in getting the admin rights on your Android device.
Svpeng virus: this is another ransomware virus that was introduced way back 2004 that uses a fake warning message from FBI.
Mazar malware: this is a traditional version of Android virus that is distributed through text messages which are filled with corrupted links.
Smart cars-hacking Android malware: this virus infection is introduced at the end of November 2016.
Gooligan malware: this is android virus has infected over 86 applications like Youtube downloader, Kiss browser, Memory booster, demo, Perfect Cleaner,Battery monitor, etc.
HummingWhale virus: this is an updates version of HummingBad malware that was known for its large number of attacks.
HummingBad virus: this android virus was first discovered on February 2016 and has already wreaked havoc on more than 10 million Android users.
Lockdroid ransomware: this is also known as Andrid.Lockdroid.E which spreads through a pornography application named Porn O Mania.
GhostCtrl virus: this android virus exploits Android system vulnerability to help its developers in taking over control on the Android device.
Android viruses have become popular since one in ten applications is infected. Most of these applications are obtained from Google Play Store despite the fact that Google is putting lots of effort in protecting its users and preventing malicious applications from skipping the security.
According to our researchers, Android viruses often get in your device through third party file sharing websites. However, that is not the only way to distribute Android viruses for it can also spread through corrupted text messages. So once it is inside your device, it can enable several illegal connections.
If you think that Android virus is already hiding in your device, we highly recommend you to scan it with Reimage for Tablets and smartphones. It will help you detect malicious files and other fraudulent components on your device. Sometimes viruses block security software in order to avoid their elimination. If that is the case, you should reboot your Android device into Safe Mode before launching your Android antivirus:
To get rid of Android viruses, follow the removal guide below:
Step 1: For a couple of seconds, press the power button of your Android device until a menu pops up. After that, tap the Power off option.
Step 2: When you see a dialog window that offers to reboot your device to Safe Mode, tap the Safe Mode option.
Step 3: Once in Safe Mode, go to Settings and then click on Apps or Application manager.
Step 4: Look for the malicious Android virus and uninstall all it.
However, if the steps above did not work out for you then your last resort would be is to reset your Android phone and make sure to install a trusted anti-virus app to prevent Android virus from infecting your device again.