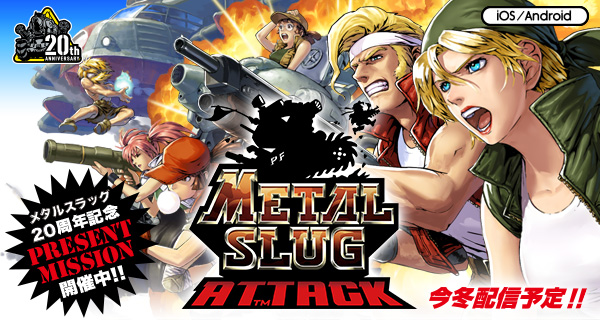 While Mobile Legends: Bang Bang and PUBG Mobile remains two of the most popular and addictive games on Android today, game developers continue to compete in the shadows, and there are other mobile RPGs which still ranks on top. Some developers continue to create games to give players something new to look out for. We know Bethesda broke our heart with the beta release of Elder Scrolls: Skyrim, but there are other promising new games out there.
Here are some of the latest updates on Google Play Store you should get excited about:
Metal Slug Infinity now on Play Store
Remember Metal Slug? The PlayStation game you are so addicted that it doesn't matter if you beat the game a thousand times and get perfect a score, you still keep on playing all over again?
Well, one of the most addictive game in history has arrived on Android and for free! There are in-app purchases that range from $0.99 to $10.99 per item.
The game was announced on October 2018. If you're familiar with Metal Slug games, you already know what to expect with Metal Slug Infinity – the same side-scrolling, 2D shooter that includes plenty of jumping around, tanks, and explosions. However, there are minor changes from the original gameplay.
Ekkorr Games, which also developed Endless Frontier Saga 2 and other mobile titles, adopted its "idle" gameplay mechanic into Metal Slug Infinity. That means you don't fully control characters and vehicles — you only carry out simple actions like applying buffs and other simple tap controls. Most of your focus will be toward micro-managing your troops and equipment.
The game features a battle system that lets you collect helicopters, tanks, fighter jets, troops, and more to assemble your army and go out to battle enemies.
Summoners War celebrates 5 years with in-game rewards
Summoners War is the kind of game where users stick for a long time, and there's only a few of its kind. The popular mobile RPG has been around since April 2014.
To celebrate its 5th year of existence, which kicked off on April 15, players can enjoy a five-week long event with five unique events. One of the said events is the comeback of the Hall of Heroes where you can summon five monsters per attribute.
The event will last from this week until May 19 and most of them are time sensitive, including a check-in event happening on April 22. Make sure to log in regularly to collect all limited-time rewards.
Com2us is also hosting a number of special events outside the game for the fans called – Summoners War: Tour of Americas. Events have already taken place in Vancouver and São Paulo, and the first one to hit the United States will take place on April 20 in Houston, Texas. Attendees will receive all kinds of goodies, such as a swag bag of Summoners War merchandise and 250 in-game crystals.
There are several events also happening in Los Angeles (June), followed by Mexico City (July), Chicago (August), New York City (October), and Orlando (December).
For those who haven't played Summoners War or already stopped playing, this might be the right time to install the app and join the 5-year hype.