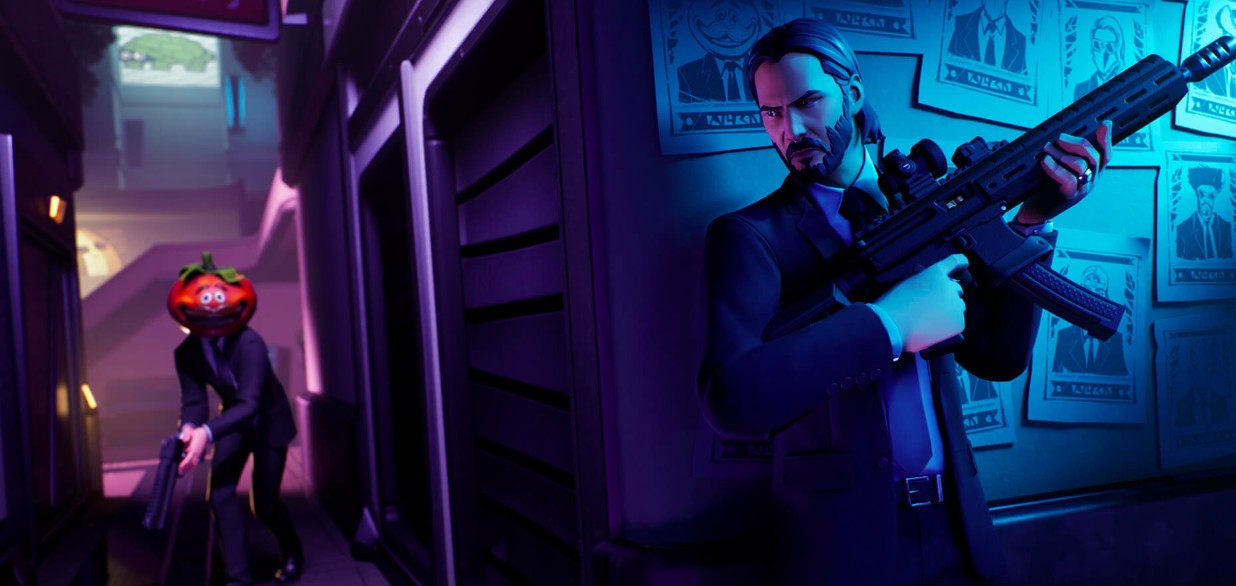 The latest content update for Fortnite is finally out and it comes with the introduction of the third sequel of the best movies of all time – John Wick 3. The Fortnite 9.01 patch comes with John Wick-themed limited-time mode, new weapons, and some minor game fixes.
The newest limited-time event titled Wick's Bounty will drop players into a game with gold tokens like what's used as assassin currency in the movie. Eliminating an enemy player pays out all of the tokens that they were carrying, and the first squad to reach a certain threshold wins.
Here's more you need to know about Fortnite 9.01 patch:
Limited-Time Mode: Wick's Bounty
Limited respawning: Each player has three lives.
The more tokens a player is carrying, the more visible on the map they will be when moving or shooting.
The top 3 token leaders will always have their location shown on the map & compass.
Weapon/Item Changes
Tactical Assault Rifle
Available in Rare, Epic, and Legendary variants.
Fully Automatic
30 Round Magazine
Deals 22/23/24 damage
Headshot Multiplier of 1.75x
Reduced Baller health from 200 to 150
Vaulted Compact SMG
Gameplay Changes
Slipstream adjustments
Slipstreams no longer block building.
Players flying in a Slipstream will destroy player-built objects when they collide.
Slipstreams are now disabled after storm phase 5.
Free Challenges
Launch off Air Vents in different matches (0/5)
Stage 1 of 5: Land at Snobby Shores
Stage 2 of 5: Land at Fatal Fields
Stage 3 of 5: Land at Sunny Steps
Stage 4 of 5: Land at Dusty Divot
Stage 5 of 5: Land at Happy Hamlet
Eliminate opponents in Sunny Steps or Shifty Shafts (0/3)
Battle Pass Challenges
Deal damage with Pistols to opponents (0/500)
Visit an oversized Phone, a big Piano, and a giant Dancing Fish Trophy
Search a Chest in different Named Locations in a single match (0/3)
Deal damage to opponents from at least 2 stories above
Stage 1 of 3: Eliminate an opponent from at least 50m away
Stage 2 of 3: Eliminate an opponent from at least 75m away
Stage 3 of 3: Eliminate an opponent from at least 100m away
Where to find the oversized phone, big piano, and giant dancing fish trophy
Jump into any mode of Fortnite's Battle Royale. Solo or Team Rumble will, as it's the best for challenges like these.
There are two oversized phones in the game: one is located to the East of the Block, and the other is to the Southwest of Fatal Fields.
The big Piano is located just North of the Mansion, in the forest above it.
The Giant Dancing Fish Trophy can be found Southwest of Mega Mall, stuck in the roof of a house.
Simply walk up to or land near each item, and that part of the challenge will be done.
Once you get near any of the items, you'll have finished the challenge. There is no special order to do them in, so whatever you land closest to can be the first thing you head towards. After that, you're free to explore all the new facets of Season 9 or get a jumpstart on the Battle Pass by finishing some of the other Week 2 challenges.
That's it for Fortnite 9.01 Patch update.