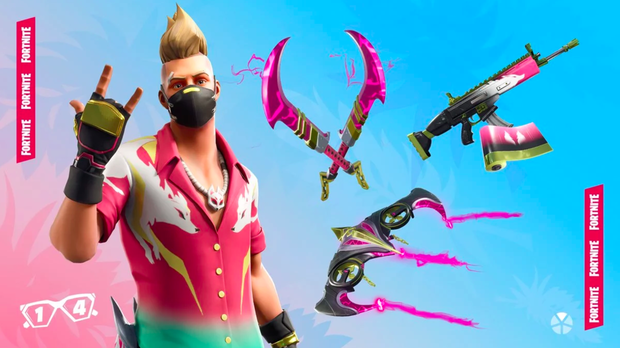 Here comes Fortnite's 14 Days of Summer, the annual event that kicked off this week and will see daily content dropped into the world of Fortnite, offering players of every game mode the chance to experience new things every day. The 14 Days of Summer, as the name suggests, will last for two weeks, and will include new challenges to complete, game modes to play, and items to pick up in the item shop.
To celebrate the occasion, Epic plans on giving Battle Royale players ton to do every day and will be unvaulting one weapon each day, allowing players to have some fun with weapons that haven't been in the game for some time. Along with unvaulting the weapons, new limited-time modes will be available each day, new challenges and rewards will be released each day, and new outfits will drop into the Item Shop.
For those who would rather play the Creative and Save the World modes of Fortnite, a new featured island will pop in Creative daily, and new quests every day will allow Save the World players to score some free items in the store.
For a brief look at some of the limited-time modes that will drop into Fortnite throughout the next two weeks, check out below, and head over to Fortnite's blog to see the full breakdown of what to expect:
Heavy Metal Squads – Only the "Heavy" weapon variants can be found in loot boxes.
Storm Chasers: Surfin' (squads) – Ride the waves and try to stay afloat.
Splashdown Squads – Try to eliminate opponents with the new Water Balloon Item.
Power Up Solos – Become the most powerful player in the match. Consume as many shields as you can and fight to be the last one standing.
Leave None Behind Duos – United you stand strong, but divided you fall. Leave none behind.
Use With Care Duos – Resources are scarce in this mode so make sure you place builds efficiently.
The new content patch includes weapon changes. Not only is the Revolver making its way back into the game, but the Pump Shotgun is also getting unvaulted and joining the current lineup of weapons. To make room for some of the changes, the Rare Tactical Assault Rifle will be headed to the Vault, along with the Impulse Grenades, Rift-To-Go, and Pirate Cannons.
Revolver
Available in Epic and Legendary variants.
Fires Medium Ammo.
Holds 6 rounds.
Vaulted
Rare Tactical Assault Rifle
Impulse Grenades
Rift-To-Go
Pirate Cannon
Unvaulted
Uncommon and Rare Pump Shotgun
Shockwave Grenade
Suppressed SMG
Weapon/Item Changes
Headshot Multiplier for Tactical Shotgun increased from 2 to 2.25
Base accuracy for Burst SMG increased by 13.6%
Base damage for Burst SMG increased from 23/24/25 to 24/25/26
Increased the Epic and Legendary Infantry Rifle clip size from 8 to 10
Increased player damage for Minigun from 18/19 to 20/21
Reduced clip size for DrumGun from 50 to 40
Reduced fire rate for Drumgun from 9 to 8
For a full look at the list of updates that hit Fortnite earlier today, make sure to head over to the Epic Games blog and check them all out, as there is quite a bit across all three game modes.