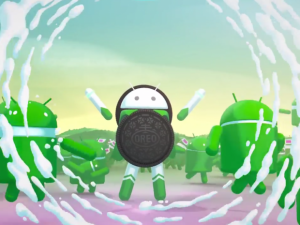 Android Oreo is the official name of Google's next version of the sought-after operating system and it is available today for some selected devices. Google has recently announced to the public Android Oreo, its newest and biggest operating system update that will be the backbone of Android devices moving forward. It is reported that Pixel and Nexus devices are going to be the first devices to be supported by the newest operating system but many companies such as HTC have confirmed that its recent flagship phones will be updated to Android Oreo.
It is Android 8.1, by the way. This has been revealed by a teardown of the latest iteration of the beta Google app. The SDK used internally by the company to build said app outright says so.
As for the name, it makes the most sense for Google to keep using Oreo as it would be a shame to switch from such a well-recognized brand so soon, and it is also how it did things last year with 7.0 and 7.1 both being Nougat.
But according to the reports by the early users of the software, Android Oreo, the new mobile operating system, is said to have a problem that allows your smartphone to burn through your mobile data even when you're connected to Wi-Fi. It's an alarming issue especially for people on a limited data plan.
A Reddit user named Unusual Sauce first reported the said issue saying, "After updating to Oreo last night, I received a huge spike in data usage, all the while being connected to Wi-Fi".
"I contacted support and was told that they are aware of the issue and are working on a fix. In the meantime, I have turned off mobile data while at home, so only Wi-Fi is being used."
Another Reddit user named St Maunsell claimed to be having the same problem as Unusual Saucy after upgrading to Android Oreo and said that support has told him that the other users of the latest operating system have reported it as well.
Android Oreo is said to have the Mobile Data Always Active feature by default and to be able to turn it off, you need to activate Developer Options.
As pointed out by Unusual Sauce, while this addresses the issue, many users "might not know this was happening, as it hasn't in the past."
To unlock Developer Options, open Settings, scroll down to About Phone and tap it seven times in quick succession.
On some phones, tapping it once will take you through to another menu. In this case, navigate to Build Number instead and tap that seven times.
If you are on Android Oreo and want to see if you have been using more mobile data than usual, swipe down from the top of the screen to access Quick Settings and tap Mobile Data.
You can disable Mobile Data Always Active in the Developer Options section of the Settings menu.