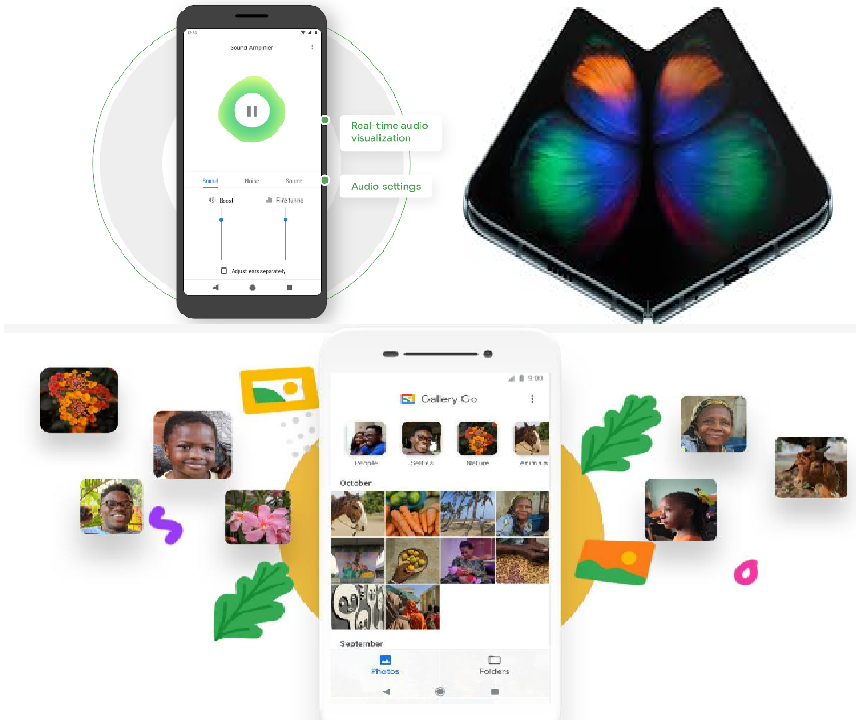 Google is launching lots of new apps and features before finally kicking out Android Q – which is still on its 5th beta version but close to perfection.
Some of Google updates are minor changes, while some caught the attention of many Android fans. Here are some of the better news on Android today.
Android's Sound Amplifier feature is rolling out
Originally announced during Google I/O 2018, Google's Sound Amplifier app is now available for Android devices running Android 6.0 Marshmallow and above.
Sound Amplifier filters, augments, and amplifies certain environmental sounds, such as those from people and TVs. The app sorts out what it deems important and filters out background noise to make the amplified audio stand out more. You can even adjust the sound for each of your ears. However, with more than 100 different options available, these settings won't be made available to the user. Instead, it will be up to app developers to implement these as specific features in their own software and expose more limited and common-sense controls to the user.
The app is available from the Play Store.
Gallery Go – the offline version of Google Photos
Google has announced a new gallery app designed for offline use called Gallery Go. Google said the app would help first time smartphone owners manage their photo libraries and edit images.  It comes with only 10MB, and it doesn't rely on cloud backup services like the regular Google Photos app. Instead, the app is designed for emerging markets where copious amounts of device storage and internet access aren't always available. 
Gallery Go by Google Photos uses AI to automatically organize your photos. This is said to help users quickly access the images they want — be it a selfie or a perhaps a photo of an important document — without them needing to label the images themselves. The app also supports Google Photos' "auto enhance" button to improve images with a single tap, and you can choose from a "variety of filters" to further enhance your photos.
The app is now globally available starting today but Google said some of its features may be restricted to certain regions. It's free and compatible with phones running Android 8.1 Oreo or higher.
Samsung Galaxy Fold relaunch
After postponing the Galaxy Fold's release due to hardware issues, Samsung announced today it will re-launch the Galaxy Fold in September.
Original issues included screen flickering and a bump appearing under the display. The phone's protective film layer was also mistaken for a screen protector.
To address the said issues, Samsung made several improvements to the Galaxy Fold's hardware. These include extending the top protective layer of the display to beyond the bezel, additional reinforcements to better protect the phone from dust and other particles, and protection caps for the top and bottom hinge area. Samsung also added additional metal layers underneath the display for reinforcement and reduced the space between the hinge and body of the Galaxy Fold.
The company will share more details as we get closer to the launch. Additionally, Samsung revealed it will cost $1,980.