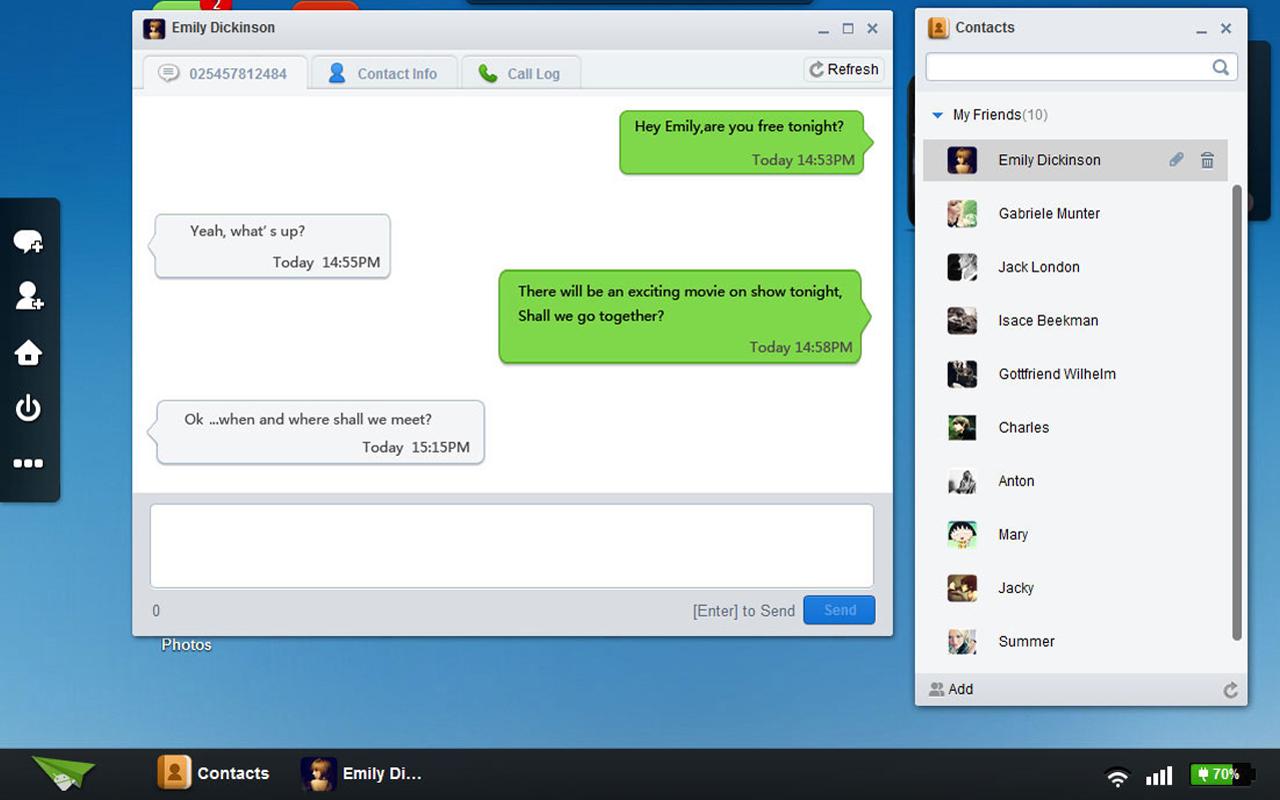 One of the coolest parts about Android is that you can install desktop managers to remotely manage your phone. Thanks to these managers, you may never have to connect your phone to your PC again.
But not all Android desktop managers are made alike. Here are the best desktop managers for Android currently available for free today:
AirDroid
AirDroid is a free desktop manager. There is, however, a premium version available for $1.99 per month. Most people won't need that premium version because the free version includes all of the following features:
-Send and receive texts
-Manage all files and directories on your device
-Import/export music, photos, and videos
-Edit ringtone and notification sounds
-Export app APKs and install app APKs on your device
-Upload files and paste links to Android
The premium version of AirDroid offers a few extra features, but nothing that is super important for Android users. If you pay $1.99 per month, you can manage your contacts from your desktop, for example, and switch between up to six devices. The premium version also has extensive security features – like the ability to find your lose phone, remotely lock and wipe it, and take a photo of the thief from your desktop.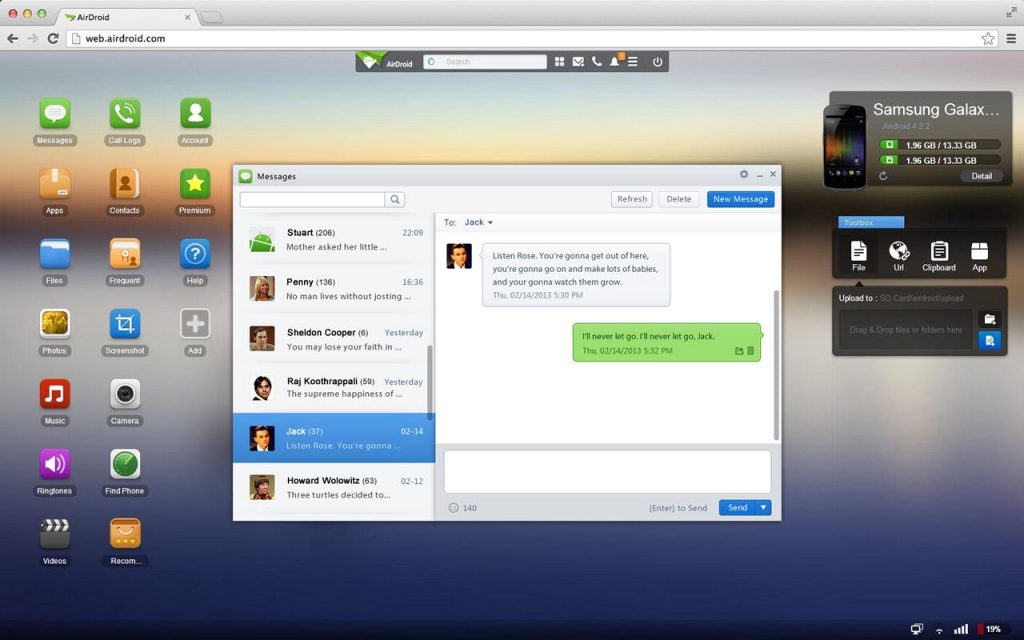 There are two ways to connect AirDroid to your Android device. First, you need to install the AirDroid app on your Android device and install the AirDroid desktop software on your computer.
Next, you need to either:
a) Ensure your Android and computer are connected to the same wireless network
b) Connect your Android to your PC via USB
AirDroid isn't as feature-rich as the other options on our list, but it provides more than enough desktop functionality for the average Android user.
Snappea
Snappea has a very similar feature-set to AirDroid with a few small exceptions. With Snappea, you can:
-Manage photos, videos, and music from your computer
-Send and receive texts
-Transfer files and directories (including entire iTunes playlists)
-Safeguard your phone's data on your computer, including contacts, messages, and photos
-Install and uninstall apps
Just like AirDroid, you can connect your Android to your PC if they're on the same wireless network. Or, if you're not connected to Wi-Fi, you can manage your phone via USB.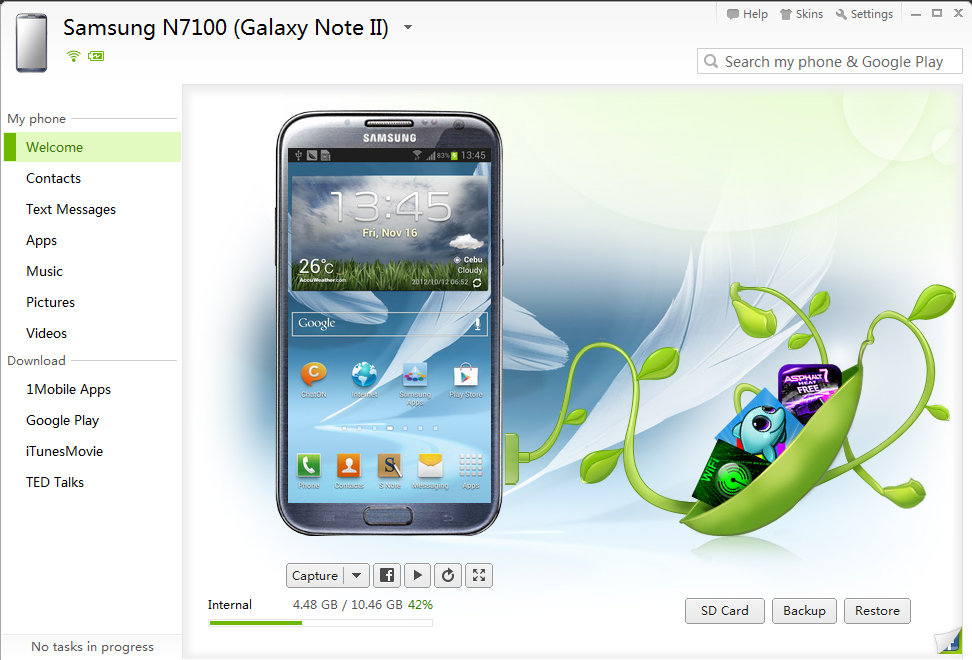 Snappea's interface isn't quite as intuitive or user-friendly as AirDroid, but you'll get used to it.
MoboRobo
MoboRobo is another good option and it's arguably the prettiest software on our list. MoboRobo was designed to be "Android's iTunes". Just like iPhone users can use iTunes to easily manage their iPhone, Android users can use MoboRobo.
At least, that's the idea. MoboRobo includes all of the same features as AirDroid and Snappea, including the ability to install APKs, remotely manage multimedia, and send texts using your computer's keyboard.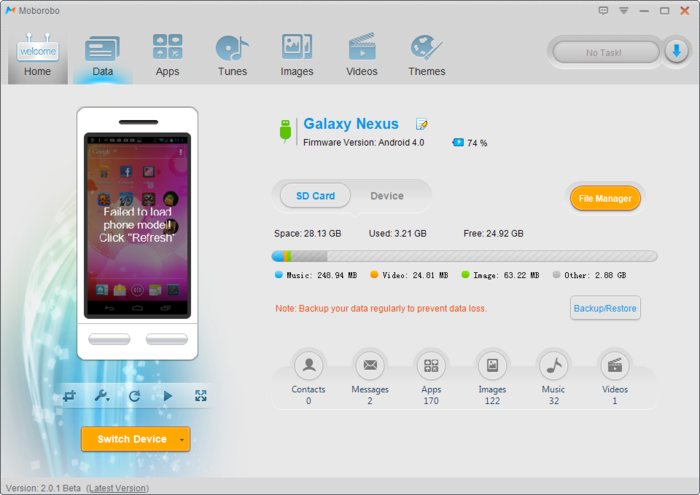 One of the cool things about MoboRobo is that you can connect both iOS and Android devices to the software. You can't directly transfer files from iPhone to Android, but you can indirectly transfer files using your computer as the middle man.
MoboRobo, like the other options on our list, is free to use.
Other options
Wondershare MobileGo is good but expensive. It costs a one-time fee of $39.99. It's available on both Windows and Mac and it doesn't offer very many advantages over its free competitors. In fact, Wondershare needs to be connected to your PC via USB cable, which is strange considering it's such an expensive piece of software. However, if you really want to spend $40 and don't mind connecting your Android to your PC via USB, then Wondershare MobileGo isn't a horrible option.
Pushbullet, on the other hand, was the pioneer of the Android desktop manager industry. Pushbullet has a couple unique advantages: you get a nifty notification center directly on your Windows desktop as well as in Chrome or Firefox. You can also "push" a link to your phone by right-clicking on it on your computer. Other than that, Pushbullet has all the same features as other Android desktop managers, including remote file management and remote texting.
As you've probably noticed, most Android desktop managers have the same basic features: if you just want to send music and photos to and from your Android to your PC while also sending a few texts with your computer keyboard, then it doesn't really matter which one you choose.