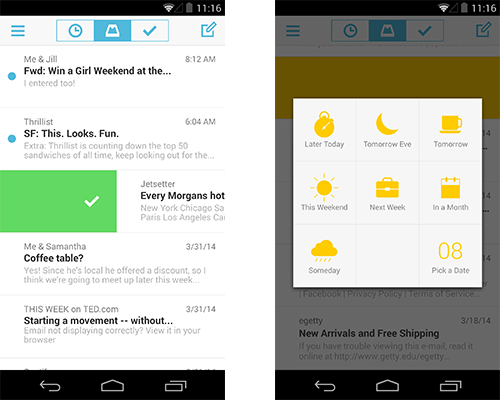 Dropbox is one of the best cloud storage services in the world today. It's free to use and provides more free storage space than most other services (I've never paid for Dropbox and I have over 50GB of cloud storage space for some crazy reason).
Earlier today, Dropbox held a large press event in San Francisco. At that event, Dropbox announced a few major news points.
First, Dropbox unveiled something called Mailbox. This wasn't totally surprising because last year, Dropbox bought an iOS app called Mailbox.
Today, Dropbox unveiled Mailbox for Android as well as a desktop version of Mailbox. Mailbox for Android is currently available for free on the Google Play store and will be released in the near future for desktops.
Here's what Mailbox for Android does:
-Offer a "completely redesigned inbox that makes email light, fast, and mobile-friendly"
-You can swipe left or right to archive emails or throw them in the trash
-Scan an entire email chain at once using a chat-like organization system
-Snooze emails until later with a single tap, which returns them to your email inbox later as a new email
-A colorful, smooth, and tap-friendly user interface
The app has already generated a large number of five star reviews, although there are also a lot of one star reviews which complain about the fact that users must sign into Dropbox and that there's no support for Exchange emails. The majority of reviews, however, are largely positive.
You can download Mailbox for Android here: https://play.google.com/store/apps/details?id=com.mailboxapp
Mailbox for desktop will look like this when it's finally released: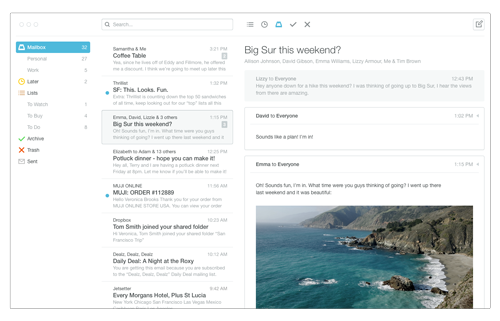 At the same conference Dropbox also announced something pretty amazing: the service has 275 million users. That's a lot of people using Dropbox around the world.