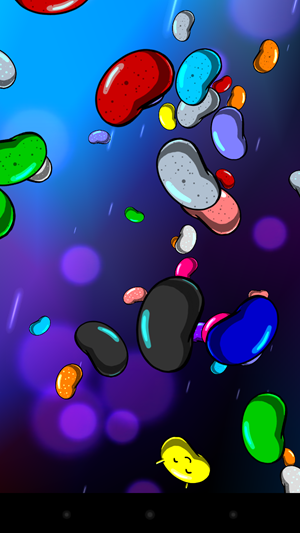 After being idled for quite some time, your Android device's screen turns off. So if you don't like that, you can enable screen saver that displays something on the screen like a clock, news and weather, photos or changing colors while you are no using your device. This feature is called Daydream Mode prior to Android 7.0.
This article will guide you how to enable screen saver on your Android device since this feature for Android 7.0 is not enabled by default. In addition, it does not start when you press the power button of your device and only starts when your device goes to sleep on its own. We will also walk you through the steps on how to select what to display or what to put on your screen and when the screen saver should start.
Refer to the steps provided below to enable your Android device's Screen saver and set your preferred Screen saver:
Step 1. Swipe or drag down from the top of your screen and then tap Settings ( the gear icon).

Step 2. Under Settings, tap Display in the Device section.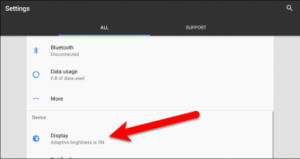 Step 3. Under Display, tap Screen saver from the options.
Step 4. And then turn on Screen saver by tapping the slider button on the right side of the screen.

Step 5. Select your screen saver.
Once you've turned on your Screen saver, it's now time to set up the screen saver of your preference. Also, you will see some default options for screen saver available for your perusal that can be displayed while it is running.
Step 5.1 Setting your Screen saver from Photos.
To set up a screen saver from your Android phone's photo album, tap on Photos under the Screen saver options.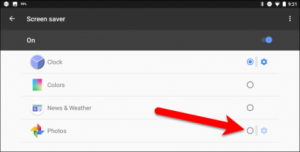 The options available for your Screen saver may depend on what brand of device you are using. For instance, if you are using a Samsung device like the one illustrated below, you can select from Colors, Photo Table, Photo Frame and Photos. And if you are using an LG device, your choices are limited to Clock and Photos but you can also download third party apps so that you can have many choices.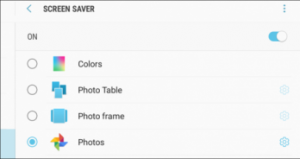 If there is a gear icon on the right side of the menu, then you can change its Settings as well like selecting which photos from your photo album you'd like to set your Screen saver to. To do that, just tap the gear icon.
You can either turn the settings on or off under the General section. The three settings in the General section are on by default.
Moreover, under the settings for Photos, the Only use Wifi for data setting will only load online photos if your Android device is connected to a Wifi network. While the Photos fill screen setting will fill up each photo to fill the entire screen. And the Animated zoom effect setting will make your photos zoom in and out in a slow pace.
Step 5.2 Setting your Screen saver from Google photos.
Select the account you want to use in the Google Accounts section to display photos from your photo album in Google Photos. Below the Albums on Device, you can see the Photos section that displays and lists all the photo albums you have on your account. So if you select this option, the photos in your Screen saver will be loaded from online.
However, if you want to display photos stored locally on your device, you can download photos from a photo album stored in Google Photos to a new album or existing album on your device. And then after downloading the photos, you can select the local album in the Albums on Device section.
You also have the option to add more choices to your Screen saver by installing third party applications from Google Play Store that works with either Screen saver or Daydream.
In our example below, we added the Desk Clock Daydream, NNT ASCII, StarDaydream and Starfield Screensaver.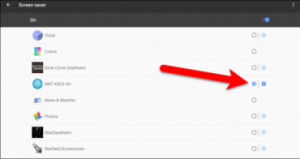 NOTE: For the Clock Screen saver, you select whether you want o display an analog or digital clock and you can also set the night mode on or off.
Step 6. Control how the Screen saver should start.
After selecting your preferred Screen saver, you can choose how you want it to start. To do this, you have to be on the Screen saver screen and then tap the menu button located at the upper-right side of the screen.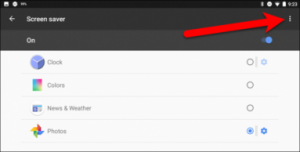 After opening the menu button, tap When to start screen saver.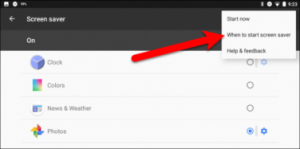 And then you can choose to start the Screen saver While docked, While charging or Either if you dock your device sometimes or if you plug it in to charge it.
Step 7. Change Sleep Mode Time Interval
Like we mentioned earlier, your Screen saver only starts once your device goes off on its own accord or if it goes to sleep. You can modify the amount of time it takes whenever your device goes in to Sleep mode. To do that, swipe or drag down from the top of your screen and tap the Settings icon if you have already closed it and if you are still on the Screen saver settings, tap the left arrow in the upper-left corner of your screen to return to the Display settings.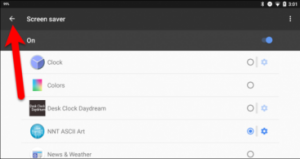 Under the Display settings, you can see the option for Sleep and the number of minutes of inactivity before your device goes to sleep. To modify the number of minutes, tap Sleep.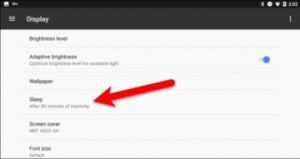 Under the Sleep dialog box you can see a couple of number of seconds or minute, tap the number of minutes you want your device to idle before it goes to Sleep.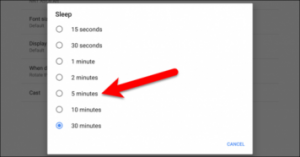 After selecting your preferred time on the choices, the dialog box automatically closes and then you'll see your selected number of minutes under Sleep. Sleep interval changed.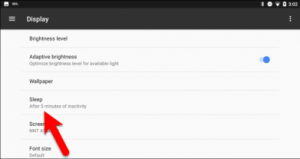 You also have the option to keep your screen on while your Android device is charging, as well as view and use your applications while the screen is on and your Android device is charging.