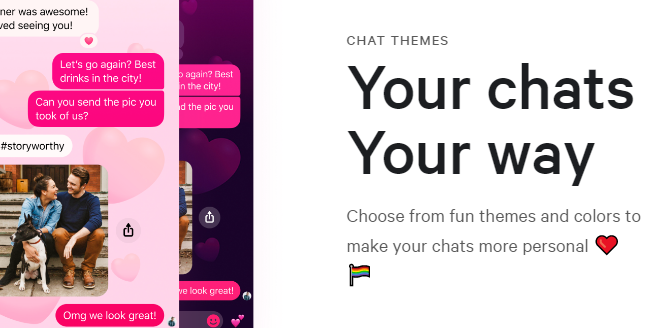 Messaging has been taken to a whole new level!
Meta is always coming up with both fun and convenient stuff to do. In the recent years, special attention has been on Messenger – and they really delivered.
Discover 10 features you might not know about that could actually transform your entire Messenger experience.
Awesome Messenger features to try
1. Play games with friends
Mini games have been around for quite some time on Messenger. Over the years, the collection has expanded to include a decent number of games. From the classic Bubble Shooter and Snake Attack to Uno and 8 Ball Pool, there's something for everyone on the table.
Recently, however, these games have been moved from Messenger to the main Facebook app. That might be a bummer for those of you who use Messenger only, but don't worry. There's another way you can play with friends on the app when you're looking to kill time. And it might be even more fun because of one detail: you do it via video calls!
You simply make a video call, tap the group mode button, click 'Play' and choose a game. The library is a bit scarce at this time, but should be expanded throughout the year. Either way, try it out – and make sure you don't get too competitive!
2. Set nicknames
If you're looking to give some personality to your contact names, Messenger's the place.
You can set unique nicknames and even include emojis in them. That way, your chat history looks a little more vibrant, matches your sense of aesthetics and remains organized. Just be careful not to go wild with personal vendettas and such, since the person does get notified about the nickname you set.
All you need to do is enter the chat, tap on the 'i' button, select 'Nicknames', and off you go creating special names for your favorite people and even yourself. 
3. Set reminders
With this neat little feature, your buddies forgetting plans may be a thing of the past. They might still show up last minute – but at least they'll show up!
Simply go to the four dots within the conversation and select 'Reminders' to create an event, including time and location.
4. Send and request money
All our lives have significantly improved since online and mobile banking became a thing. But what if we told you there's an even faster and more convenient way to send and receive money? Yep, it's possible to do it via Messenger – as long as you're in the USA.
To do this, both people involved first need to have debit cards connected to their accounts. Once that's ensured, go into the chat options, select 'Payments' and choose whether you're asking for money or sending it. Enter an amount, add a note and proceed.
5. Customize colors
Aside from setting nicknames, another way to personalize your convos is by choosing specific colors to replace the classic blue. Each conversation can have a different shade, depending on what color you associate with that person.
It's a nice way to make your chat bubbles really pop and get away from the default appearance. Especially since it doesn't even have to be a solid color – you can also pick a theme or gradient.
To do this, head into the chat, tap the name, select 'Themes' and pick your favorite. Keep in mind that one chat can only have one color on both ends, so both parties need to agree on the same look.
6. Settle debates with polls
"Agree to disagree" is no more. If your group never seems to completely see eye to eye on weekend activities or music choices for road trips, try using polls in your group chat.
The decisions probably still won't be unanimous, but they can be fair and made a lot more quickly than by chatting for hours about the options. Plus, the indecisive ones in the group don't stand a chance anymore, as they will have to vote for one of the answers. If you don't give them the "I don't know" and "whatever you guys want" options, that is. That part is up to you.
Simply head to the group chat, tap the four dots, select 'Polls' and create your multiple choice question to settle debates once and for all.
7.
Share your favorite tunes from Spotify
If you use your Facebook account to log in to Spotify, you'll be able to access it from Messenger. Tap on the four dots, find the Spotify icon and select it. From there, you'll have the option to share your recently played songs or search for new ones to send to the chat, all without leaving Messenger.
We've come a long way from having to burn CDs to share good music with our friends, huh?
8.
Send Soundmojis
A lot of emojis are now paired with specific sounds to make your chats even more expressive and entertaining. Some of the sounds are even popular song lyrics.
In a chat, tap on the emoji icon next to the text field and then choose the Soundmojis option (the sound/volume icon to the far right). Experiment with the different sounds and make your convos come to life!
9.
Watch videos and Insta posts with friends
When you call someone on Messenger, whether via video or audio, there's a nice little feature called 'Watch Together'. During your call, swipe up to find it. Once you tap 'Watch Together', a list of Facebook videos will appear that you can watch with your friend.
Right below that option, you'll also see 'Instagram posts', provided you've linked your Instagram to your Facebook account. This is so much more fun than just sending posts back and forth, since you can discuss them in real time.
10.
Set quirky word effects
Another exciting way to animate your conversations is through word effects. 
Tap on the 'i' button in your chat, select 'Word effects', choose an emoji and write a word or phrase that will trigger the effect. Once you save it, every time you send that phrase in the chat, an animation containing selected emoji will be sent along with it.
Summary
We hope you'll like some of our 10 favorite Messenger gems. And if not, there's always more to explore – some may be hidden better than you think. Happy messaging!