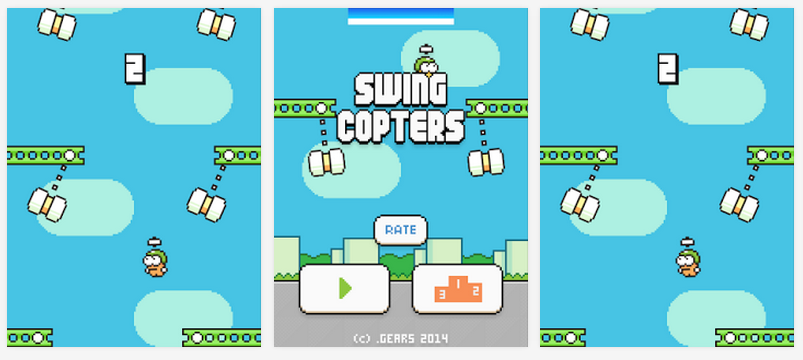 You remember Flappy Bird, right? The stupidly difficult game that was dramatically pulled from the app store after the creator "went crazy" due to "stress"?
Well, that creator, Dong Nguyen, has finally released his second game.
Nguyen released Swing Copters earlier today for iOS and Android. The game features a very similar visual style to Flappy Bird but different gameplay elements.
In Swing Copters, players repeatedly tap to navigate their player through a maze of swinging hammers.
It's exactly as difficult as it sounds and, like Flappy Bird, all your hard work can be erased in the blink of an eye. If you get hit with a swinging hammer, you plummet to the earth and die.
Many are already claiming that Swinging Hammers is harder than Flappy Bird – which is pretty scary.
Is it just a "vertical Flappy Bird"?
The game has received decent reviews thus far, earning an average rating of four stars out of five from users.
However, the game has faced criticism from some people for being simply a "vertical Flappy Bird".
Just like with Flappy Bird, you tap to send your player through a maze of frustrating obstacles. But this time, those obstacles are moving.
And just like with Flappy Bird, the description for this game is stupidly simple: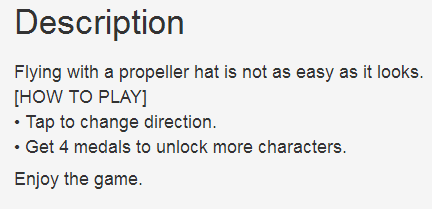 Nevertheless, Flappy Bird generated legions of fans. Swinging Copters has already been downloaded thousands of times and it will likely be downloaded thousands of more times before Nguyen decides to pull it from the app store.
Why it was all a brilliant marketing move
When Nguyen pulled Flappy Bird from the app store, I wrote about how it was a brilliant marketing move.
Most of the people who had ever heard of Flappy Bird had already downloaded it and played it. Flappy Bird had reached its critical mass.
Instead of letting the game's popularity slowly dwindle, Nguyen pulled off a move that caused his name to appear in tech headlines around the world.
At the same time, people got really excited for Nguyen's next new game.
Anyways, it was a smart marketing move by a guy who clearly knows how to make some pretty cool mobile games. You can download Flappy Bird's successor, Swing Copters, for free from the Google Play Store here.