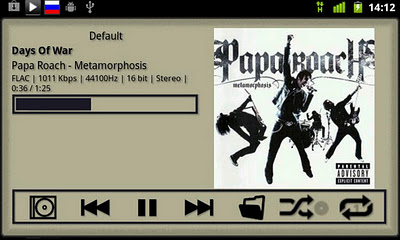 There's no denying that today's phones now serve as the best media players, but rather than relying on your default program to hit your tunes, it may be much better if you use an app that caters best to your audio needs. This is because not all built-in players are capable of giving you the best quality of music that your ears are looking for. With these apps, you can actually bring your favorite tunes to life wherever you may be.
1. Winamp for Android
The most versatile among all media players is non-other than Winamp. Nullsoft's ever-reliable media player has been available for Android devices for the past two years now, and it remains to be sleek, lightweight and low on memory use. If you've been using Winamp on your desktop or laptop, then you won't find it difficult to tinker around with the Android version.
The only setback of Winamp for Android is that it has a smaller screen resolution that may not be as convenient as it used to, especially when installed for smaller devices (like that of Samsung Galaxy Mini or Galaxy Pocket). However, the equalizers, the folder organization and remote access capabilities are still intact and functional on the app.
2. PowerAmp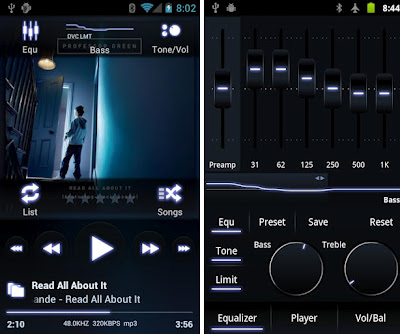 To those who want a much simpler media player app on their devices, the kind that is very user friendly and not complicated when it comes to controls, then they may want to check out PowerAmp. A favorite among music enthusiasts, this app is very simple to use, and it comes with the widest range of equalizer presets. Those who are trying to mix beats and tunes may rely on this app so that they can play with their tracks wherever they may go.
Another reason why folks love this app is because it helps improve audio quality when the music is being played via earphones, all you have to do is adjust the equalizer settings until you get the kind of audio quality that you like. PowerAmp is available for free download and can be used for a 14-day trial period. Purchasing the app will give you full access to all its features and updates to new versions as well.
3. DeadBeeF
DeadBeeF is a media player that used to be exclusive for Ubuntu, but developer Alexey Yakevenko has made an app that's specially designed to play the tunes on Android devices, both tablets and phones. Just like its desktop counterpart, DeadBeeF is light and compact, and can play different kinds of music formats. It's also easy to use, although its skins are quite boring and are not customizable.
DeadBeeF is a favorite among those who are more into the music and not the aesthetics of the app, so if you're the quintessential audiophile then you will definitely have fun with this media player.
Another feature loved by DeadBeeF users is the Shout-cast plug-in. Yes, you can do your online radio streaming right on your very own phone! The app comes in two versions, the free and paid. The free version is ad supported, but still allows you full access to its features.
4. PlayerPro
One of the most famous music player apps for Android devices today is PlayerPro. With over one million downloads, this app boasts functionality and style, an organized set up and perky features such as the Dolby and SRS sound effects, and Mixable audio effects for Android 2.3 gadgets. This app however, is more focused on HTC phones and tablets, particularly those that are equipped with HTC sound enhancement, 14 different skins, home screen widgets, and lock screen widgets.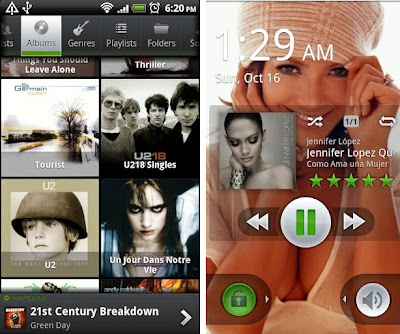 PlayerProf has gained fame for being highly fashionable-you can actually customize the app's appearance depending on your preferences. PlayerPro is likewise available for free under a 10-day trial. The full version is a standalone player, thus you have to remove the trial version first before purchasing it.
5. Neutron Music Player
To those who are a bit more techie when it comes to their media player apps, then the Neutron Music Player is the one to get. It has gained distinction for its 32-bit audio decoding/processing capability, and various UI design choices. It is fairly new in the music apps market, and yet it has already garnered a slew of followers.
Like the PlayerPro, the Neutron Music Player has lock screen/home screen widgets, and as well as a sleep timer, clock mode, and night UI mode that can be filled with colorful audio visualization and graphics styles.
6. Mixzing
If you are not happy with PowerAmp, then the next best choice when it comes to music players for Android devices would be Mixzing. With over 50 million downloads, Mixzing has become a favorite for its unique features such as lyrics display for millions of songs, automatic creation and saving of playlist, and on-the-spot song recommendations.
This app also has a graphic equalizer for different audio file formats, lock screen widgets and other features music lovers would definitely enjoy.
7. UberMusic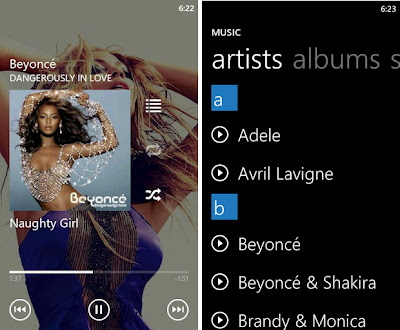 UberMusic sits on the high end range of apps for Android devices, but it's not only because of its beauty, sleekness and skinnable features. This app is not available for free, and can only be used upon purchase. However, when it comes to its capacities, UberMusic boasts not only a graphic equalizer and a wide range of audio presets; it is also offers free live wallpapers and shows album arts from your music tracks.
The app also comes with a true shuffling feature that prevents playing the same song twice, a minimalist status bar which can still be swiped down so that you can view your notifications. In addition, this app has 6 different widget designs and sizes, which you can customize.
8. NRG Player
The NRG Player is a favorite Android music player app especially by those who are fans of Last.fm. If you happen to be a regular on this site, you can use your phone to do your usual scrobbling, as well as connect to the site and listen to your music channels anytime of the day. It also has different app widgets and lock screen features, and you can test it for 10 days free.