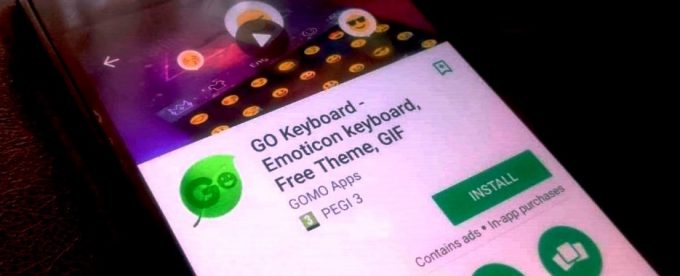 Recently, GO Keyboard, a well-known and widely used keyboard app for Android, was caught monitoring its users and collecting their data. The keyboard apps have over 200 million users who prefer to customize their texts using various GIFs and emojis. And it looks like these numbers of users are being monitored on to collect their information.
What is GO Keyboard?
GO Keyboard is a keyboard application that replaces the typical and traditional keyboard on Android with a newer one which is easier to use and overflowing with features. It allows users to customize their keyboard easily making it one of the top keyboard apps in Android.
What are the shady GO Keyboard apps in question?
GO keyboard has several applications and according to a new report, a pair of third party keyboard apps listed under GO keyboard on Google Play Store is said to be monitoring users. These apps are namely: "GO Keyboard-Emoji keyboard, Swipe input, GIFs" and "GO Keyboard-Emoticon keyboard, Free Theme, GIF."  Both apps offer GIFs and emojis to spice up your texting and SMS messages. These apps are also "freemium" apps which mean it can be installed for free along with some ads and in-app purchases.
GO Keyboard apps allegedly communicate with several ad networks as well as third party trackers. And as soon as a user install one of the two shady GO Keyboard apps, the user's information will be sent to the remote server. It's quite strange how these apps were voted as the best app of 2016.
GOMO Dev Team, GO Keyboard's developer stated that, We will never collect your personal info including credit card information. In fact, we care for privacy of what you type and who you type!" That barely seems to be the case as these apps allegedly can access user data that shows their identity, phone call records and can even listen in to the microphones on the handset of the device.
This discovery was made by a provider of ad-blocking technology known as AdGuard. According to AdGuard, they detected suspicious requests while they were analyzing the app's web traffic right after its installation. They said that they have examined Go Keyboard's behavior along with another custom keyboard named TouchPal which started popping up ads on its typing area way back in July.
So what exactly is the information that was allegedly sent to a remote server?
AdGuard co-founder, Andrey Meshkov stated, "Without explicit user consent, the GO keyboard reports to its servers your Google account email in addition to language, IMSI, location, network type, screen size, Android version and build, device model, etc.," In addition, since we're discussing a keyboard app that records every letter a user types on their phones, the owner of the server could also start to gather any information they want based on what the users type on their keyboards.
"Unfortunately, everything listed above is a norm nowadays. Recent research showed that 7 in 10 mobile apps share your data with third-party services. However, this developer crossed the red line and directly violated the Google Play content policies – malicious behavior section," added Adguard
Google was already informed regarding this matter and while the search giant calls the shots in these cases, it would be best if you make your own move and uninstall any GO Keyboard app you have installed on your Android device. And while you may miss the features that GO Keyboard offer, your privacy should still be your top priority.
In conclusion, some of the apps these days are more concern about gaining profit by affiliating with third party networks, compromising their user's privacy as a result. If you want an app where you can enjoy its features without frills, which is the one who gathers information FOR you instead of about you, then you should check out SMS Tracker. SMS Tracker is an SMS-tracking application that lets you track and monitor not just someone's SMS messages but also their social media activities and other apps installed on their device.