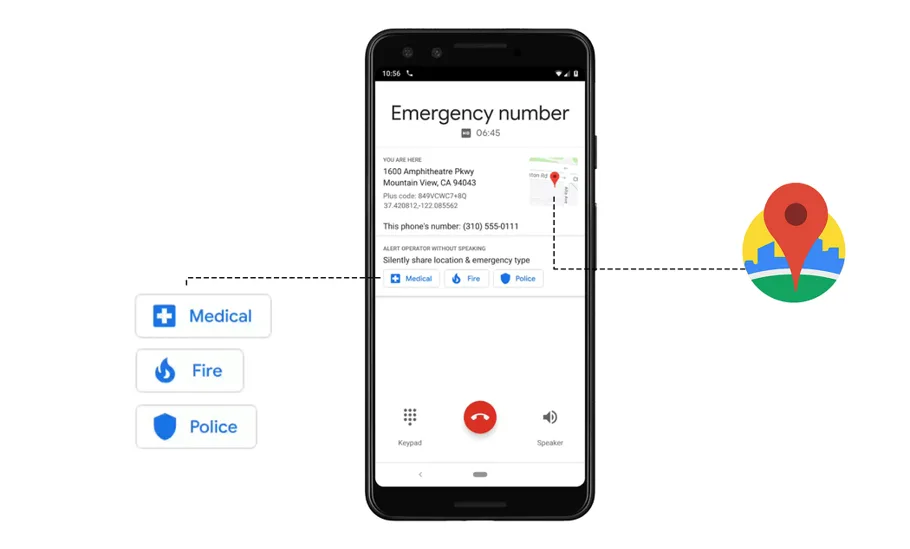 It's August, the last month before we enter the "ber" season. In some countries it's the start of Autumn or the rainy season. In other countries, it's still summer. Inside Google, it's still the month of surprises and innovation just like every other month of the year.
Here's everything you need to know about Google as we begin the August month.
New Google emergency feature may help save your life
There's a new Google emergency services feature on the way to Android phones that will allow you to quickly transmit integral information about your location and situation without needing to say anything.
With the feature, you'll be able to quickly tap on one of three emergency situations during a call to 911: Fire, Medical, and Police. Once you do, a voice will tell the emergency services operator about your situation on your behalf. In addition to this, your phone will also automatically transmit your GPS coordinates.
This new voice helper will be useful for both people who need to transmit information quickly and for those with speech impairments or those who are in a particular situation where it would be dangerous for them to speak.
Once the information is transmitted, you can always continue to communicate with your responder, so this really is a feature with nothing but benefits.
Testing Play Pass subscription service for games and apps
Google is testing a Play Pass subscription service and app, with Google confirming the test. Play Pass grants users access to hundreds of premium apps and games for a $4.99 monthly fee (with a free 10-day trial).
The prices are not yet final, but according to Google, the Play Pass is also available on a family plan. Play Pass apps are also ad-free and have all their in-app purchases unlocked. This is pretty much identical to Apple Arcade, which touts these advantages as well.
News of the Play Pass comes roughly a year after references to the feature were first found by developer Kieron Quinn in a Play Store APK teardown. Google also reportedly issued a survey in October 2018, quizzing respondents on a Pass-style service.
Google Play summertime deal
From August 1 through August 8, you can get various discounts across select games, movies, TV shows, books, and audiobooks on the Play Store.
You can expect deals on in-app purchases for some of the Play Store's most popular free games including:
Mario World
PUBG Mobile
AFK Arena
Township
Raid: Shadow Legends
Star Trek: Fleet Command
Here's what else to know about the Play Store's Deals Week:
Enjoy blockbuster movies like The Conjuring, Assassin's Creed, and La La Land for $5 and less.
Binge TV seasons, such as The Big Bang Theory, The Americans, and Modern Family for up to 60 percent off.
Catch up on reading popular ebooks for under $5, such as The Wedding Date, Alas, Babylon, and Yes, And.
Titles such as The Goldfinch, God of War, Origin Story: A Big History of Everything, Factfulness, and The Overstory are available for under $10.
That's every good news we know from Google today.