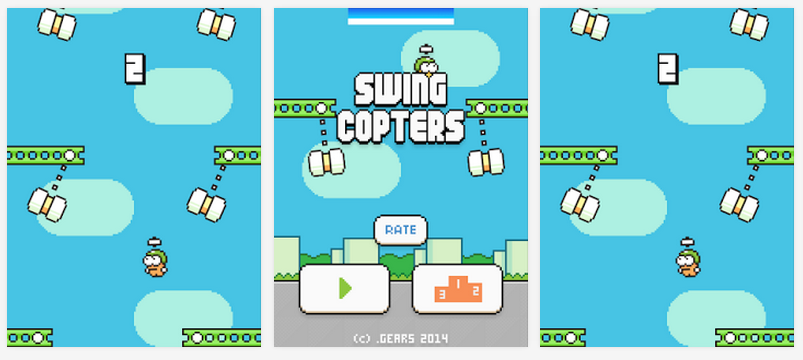 Swing Copters was released last week to a lot of fanfare.
It was the first game release from Vietnamese developer Dong Nguyen since the infamous Flappy Bird.
Swing Copters, by all accounts, is a great game and is very similar to Flappy Bird in both design and frustration levels.
Unfortunately, Swing Copters had one major problem: it was crowded out of the Play Store by hundreds of low-quality clones and wannabe-competitors.
When you typed "Swing Copters" into the Google Play Store search function, this is what you saw: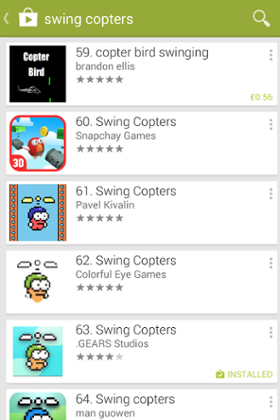 Which Swing Copters is the real one?  It's not the first, second, third, or fourth entry on that list. Sure, most people aren't going to fall for an app like "Copter Bird Swinging", but they may fall for apps like Number 61. Swing Copters, which has a similar logo.
In fact, all these competitors forced the real Swing Copters down to 63rd place on the Google Play Store, which made it difficult for people to download the actual Swing Copters game.
Many used this Swing Copters example to show how messy the Play Store can be. When you search for any popular app on the Play Store, you're greeted with hundreds of similar apps with similar names and similar logos, making it extremely difficult to identify which app is the legitimate one.
And of course, if you download the wrong app, you're at-risk of spyware and viruses.
That's a serious Android vulnerability and it's one that Apple users love to (rightfully) use to make fun of Android's security vulnerabilities.
Google responds and cleans up the Play Store
Over this past weekend, Google responded to widespread complaints about Play Store clones and removed dozens of low-quality competitors from the Play Store.
Now, when you search for Swing Copters, you only see the real Swing Copters app along with a few obvious competitors and knockoffs (Obama Copter looks amazing).

Of course, the problem here is with smaller game developers: what if you're not as big as Flappy Bird's creator but still want your app to stand out? Will you get the same unique treatment Google gave to Dong Nguyen?
Probably not. And that's why the Play Store continues to suffer from quality issues and spyware apps.