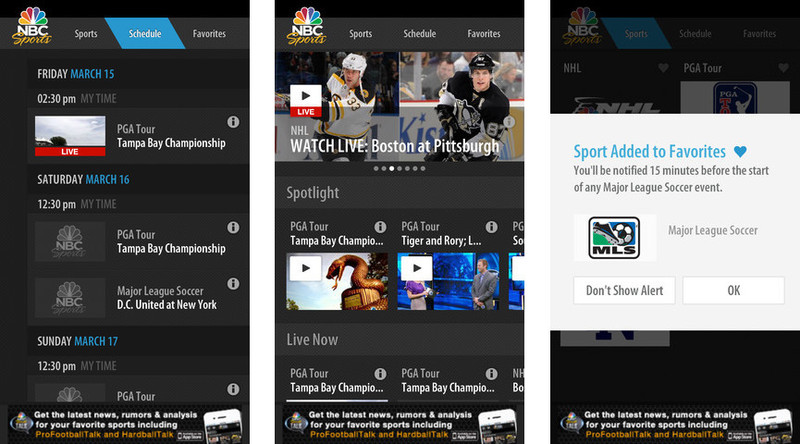 The NHL is finally back in action after a long summer away from the ice. Ready to cheer on your favorite team this NHL season? I've picked the best 5 Android hockey apps available today:
5) The official NHL app
We'll start this list with something simple: the official NHL app. The official NHL app – which is simply titled "NHL" is surprisingly good. It includes all of the following features:
-Live scores and game states
-In-game video highlights and post-game highlights
-Live game audio from every game with no blackouts
-Live game simulation with active game clock that shows near real-time line changes, box score, play-by-play, and on-ice events
-Game preview and game recap videos
-A personalized newsfeed you can use to get social media updates from your favorite teams and news from the entire NHL
-Full season schedules and standings
-The ability to stream out-of-market games live and on-demand (with an NHL GameCenter LIVE subscription)
The app has changed a lot from last season. The most noticeable upgrade is that you don't have to buy the premium version of the app (which cost $10 last year) to view in-game highlights or listen to live radio broadcasts. It's all available for free, which is a pretty great incentive.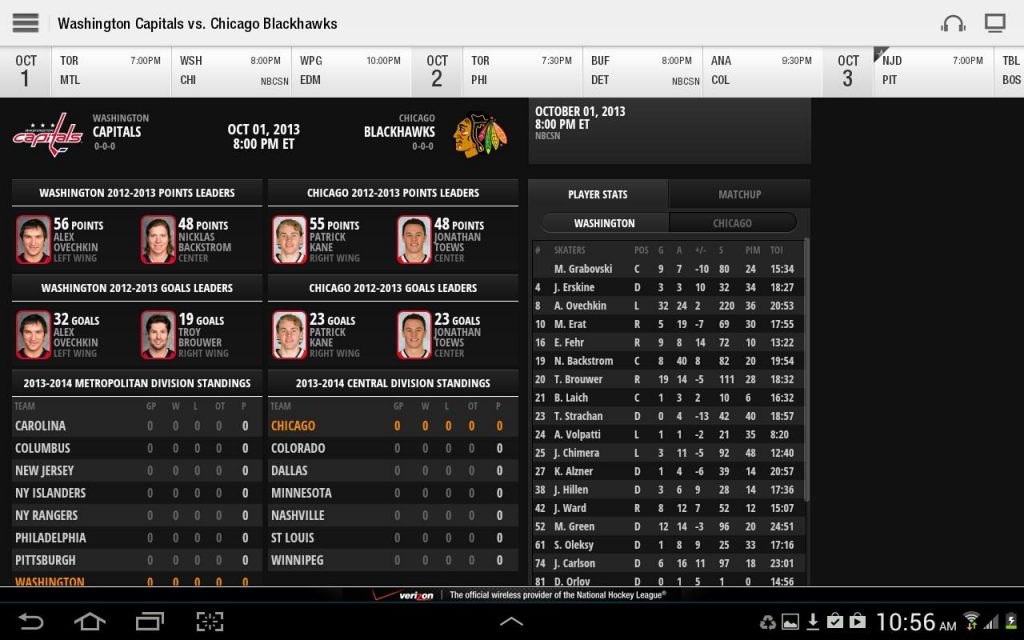 If you bought GameCenter LIVE or Rogers GameCenter, this is the app you'll need to download to view live games on your tablet or smartphone (there's no dedicated Rogers mobile app).
Download the official NHL app for free today from here.
4) TheScore
Most sports score apps are basically the same. But TheScore has consistently been a cut above the rest. One thing that's nice about TheScore is the even treatment it provides to all sports. Unlike ESPN, it doesn't ignore sports that its parent companies don't have broadcast rights for (there's a reason ESPN has earned the nickname LebronCenter).
TheScore provides a user-friendly interface and is totally customizable. You can switch between NFL, NHL, MLB, and NBA highlights on the fly. But that's only the tip of the iceberg. You'll find plenty of other sports categories available, including everything from WTA Women's Tennis to MLS soccer.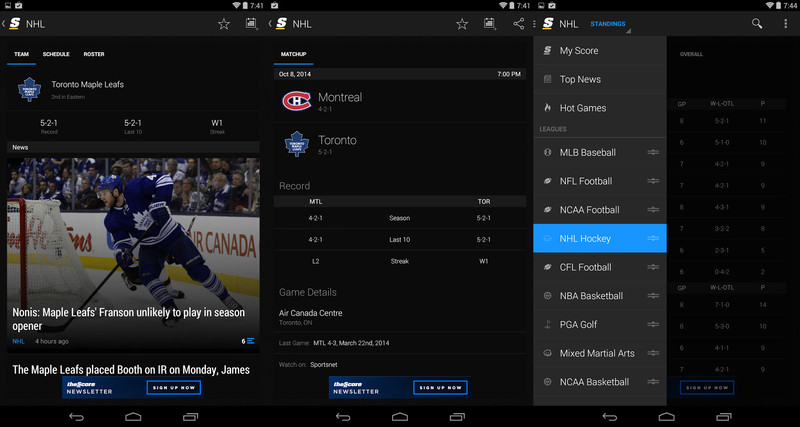 I also like TheScore because it pays attention to special events. TheScore posts scores and news about the World Juniors, for example, in December-January.
Once you're looking at an individual sport – like hockey – you'll be greeted with a number of news stories. The image-heavy layout is easy on the eyes and extremely smooth to navigate.
TheScore also has nifty features like "Hot Games", which let you see the scores of games which a lot of people are currently watching. If you want to quickly see which sports are popular today, then Hot Games is where you want to go.
3) Yahoo Fantasy Football & More
Why is an app called "Yahoo Fantasy Football & More" on this list of hockey apps for Android?
Well, because football is the most popular fantasy sport in North America, and Yahoo needs to be smart with its marketing. Last year, Yahoo combined its Yahoo Fantasy sports apps into one app, which is awesome for those of you who play both fantasy football and fantasy hockey.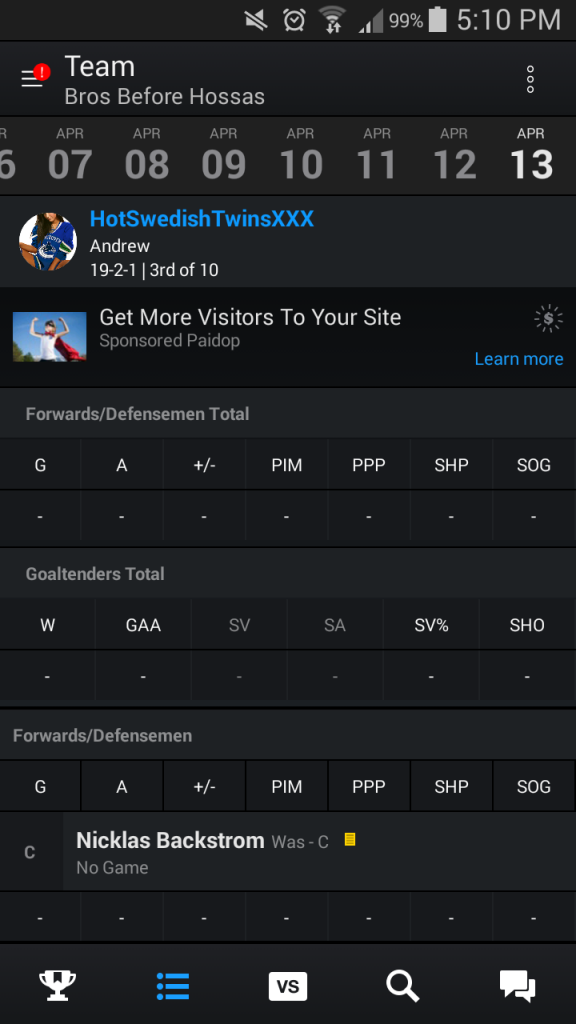 If you've never played fantasy hockey before, then Yahoo is a great place to start. It features an easy interface and its information-packed screens are nicely displayed across the large Android screens.
You can download the Yahoo Fantasy Hockey app here.
2) NBC Sports Live Extra
NBC currently owns national NHL broadcasting rights across the United States. Fortunately, NBC is pretty good about sharing its video with anyone who wants to watch, which is why I recommend the NBC Sports Live Extra app.
This app lets you watch some live hockey events for free, but most will "only be available to authenticated cable, satellite, and Telco customers via TV Everywhere."
In other words, you'll need a cable package to watch NHL regular season and Stanley Cup Playoff games on this app.
If you do already have a cable subscription, then the NBC Sports Live Extra app is an excellent way to watch your favorite games on-the-go.
Download the NBC Sports Live Extra app here
1) Big Win NHL Hockey
Do you want to play a hockey video game but you're away from your Xbox/Playstation? Consider playing Big Win NHL Hockey, which lets you create a dream team of players and go head-to-head against computers or other players.
There are lots of in-app purchases you can buy, which can get sort of annoying, but if you can get past that, then you'll find a fun – if shallow – hockey video game.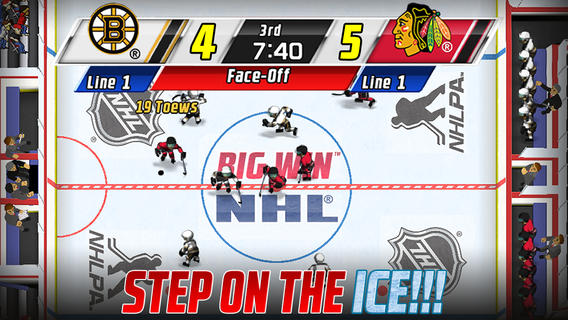 Download Big Win NHL Hockey today for free from here
The NHL is finally back. And the NHL app scene on Android has never looked better.