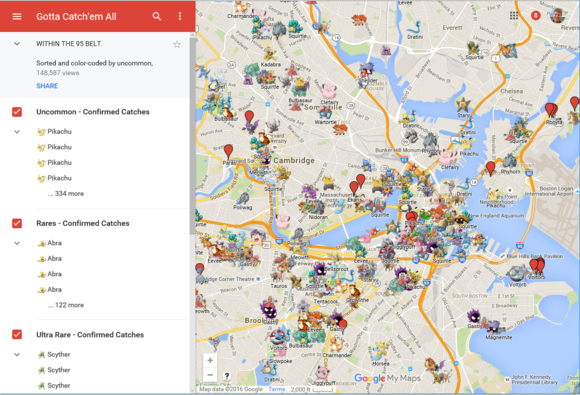 Pokemon GO has spawned thousands of websites competing for your attention. Some of the most popular websites are rare Pokemon maps, which let you see where certain rare Pokemon were caught.
Whether you're looking for an Electabuzz, a Scyther, a Pikachu, or any other rare Pokemon, you can find it on one of many Pokemon GO maps available today.
So far, the best Pokemon GO apps aren't available through apps: they're available online through standard websites. Typically, these websites access the Google Maps API, letting you easily see where Pokemon GO are in your neighborhood.
Here's a brief overview of some of the best maps we've seen so far:
-Pokecrew.com – Uses your location data to find Pokemon that may be nearby. So far, this appears to be the map with the most crowdsourced data worldwide.
-Gotta Catch 'Em All – So far, this is only available in the Boston area but has a detailed list of locations where players have found rare and ultra-rare Pokemon.
-Seattle and Tennessee Pokemon Map – This Google Maps page charts Pokemon locations across Seattle and Tennessee.
-Pokemapper – This ambitious project features a worldwide look at the best Pokemon locations without the sophistication of other websites, but it's available worldwide. If you're not in a major urban center, this is the best way to find possible Pokemon in your area.
-Trulia: Trulia is a real estate website that recently published maps showing the best spots to catch specific types of Pokemon. It doesn't actually tell you which Pokemon have been caught in which specific locations, but it tells you where you're most likely to find, say, grass and water Pokemon.
Many of these maps – like Pokecrew – let you search for specific Pokemon. The idea is that you can type a Pokemon you want into the map then see how far you'd have to travel to get that Pokemon.
Obviously, the game is only a few weeks old, so there's limited data available so far. Most of this data is also crowdsourced – so it's not 100% reliable just yet.
It's also important to note that this takes away some of the exciting parts about Pokemon GO – like getting excited when you spot a new, rare Pokemon. Some of you might just want to put away the maps and stop cheating.
Keep in mind that certain Pokemon – like Farfetch'd, Mewtwo, and Mew – have still never been seen in the wild. Good luck hunting!