Owning a vehicle is expensive. Unfortunately, it's a virtual necessity unless you want to be a slave to public transportation.
Thanks to a new Android app, it's easier than ever to track vehicle-related expenses. That Android app is called Car Logbook and it aims to simplify how you track the costs of vehicle ownership.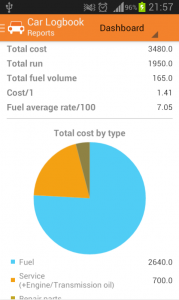 Car Logbook is available for free on the Google Play Store. Here's how it works:
-Users can log fuel refills and other regular costs directly through the app
-Other costs including tolls, parking fees, service, repairs, oil replacements, etc.
-You can view the costs of car ownership as it changes from month to month or view a total cost breakdown
-Car Logbook supports multiple vehicles and you can also setup notifications to appear on a certain date or after a certain distance has been traveled
This app is simple, easy-to-use, and effective: three of my favorite qualities to see in an app.
If you use this app over a long period of time, you can easily see usage patterns. You may notice that an older vehicle is costing you a lot of money, for example, or that your weekly commute is using slightly more gas than it did a few months ago.
However you use this app, Car Logbook is a great way to keep track of your vehicle and your budget.