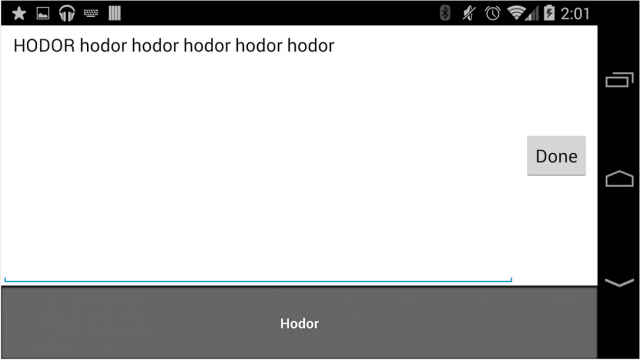 Game of Thrones fans need no introduction to Hodor, the lovable, "slow-witted" stable boy incapable of saying anything but his name. Over and over again.
Most people were content to leave Hodor in the Game of Thrones universe. But one mobile developer was not content.
Instead, that mobile developer decided to create a Hodor keyboard and it may be the most useless app in the history of Android.
Here's what this app does:
-Every word you type gets translated into the word "Hodor"
-Long press for "Maximum Hodor"
-Swipe left to "unHodor a Hodor"
Don't have any idea what we're talking about here? Check out this video:
There's only one reason you would ever use this keyboard: if your passwords were Hodor. That's literally the only good reason you would ever buy this app. That way, you could slap your keyboard however you like and still gain entry. Of course, what's the point of a password in that situation.
I guess you could also troll your friends by adding this keyboard to their handset without their knowledge. That would actually be pretty funny.
The app costs $1 and is virtually useless, but a funny experiment nonetheless. Download it here.