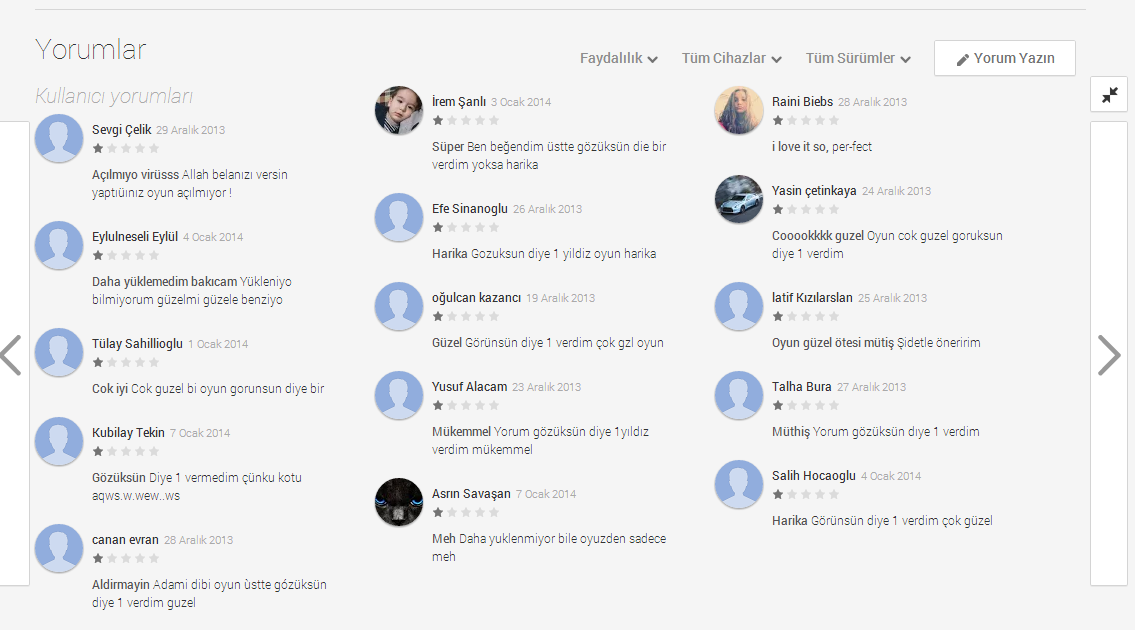 Take a quick look at the Google Play Store. Open up a random app. Now look at the star ratings.
Are there a bunch of four and five star reviews and then a cluster of one star reviews?
A lot of apps are developing this trend. And it's not for the reasons you think.
Usually, people give one star reviews to punish apps they don't like. That's the point of the five star review system. But someone took a closer look at some of the one star ratings that have been appearing on the Google Play Store lately and found a disturbing trend.
That "someone" is appwared.com, which introduces the issue with the following headline:

Just as everyone expected! It's all Turkey's fault!
All kidding aside, AppWared.com found that the majority of one star comments on good apps came from Turkish users. When translated, these reviews didn't actually say anything negative about the app. Instead, they were largely positive.
Reviews included happy statements like this:

Yes, it appears that Turkish people are consistently leaving one star reviews just so their comments get seen. It's the Google Play Store version of commenting "first" on a length, in-depth article. And it's an awful trend that needs to be stopped.
Basically, Turkish Android users feel that their comment is so important and well-written that it deserves to be shown first. Comments like this come at the expense of hardworking Android app developers and put the entire star rating system in jeopardy.
And before you claim "racism!", check out the Turkish version of Google Translate: https://play.google.com/store?hl=tr
Pick any popular app there and you'll find plenty of examples of this system at work. You don't see that trend in any other nation's Google Play Store.
This is dumb, selfish, and pointless. Most of these comments are only one sentence long – how important is your one sentence comment that you need to leave a one star review?
This is a serious example of Android WTF. Stop it Turkey!