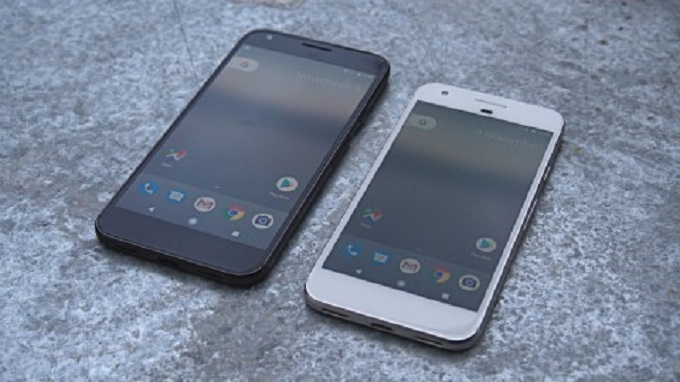 It is officially a week before the official announcement of Google's next generation of Pixel smart phones. An exclusive source has provided new details on Google's upcoming devices – the Google Pixel 2 and Pixel 2 XL.
Pixel 2 XL specs
The Pixel 2 XL includes a curved QHD screen which will be powered by Qualcomm's Snapdragon 835 mobile processor which will have 64GB or 128GB internal storage. Even though it isn't known what the exact size of the display will be, the exclusive source shared that the screen-to-body ratio would be around 80 to 85% that only proves the previous rumor true regarding slim bezel, kind of similar to the Galaxy Note 8. In the previous leaks, it suggested that the upcoming Pixel 2 XL won't have any dual stereo speakers but will have a headphone jack instead. Contrary to this rumor our exclusive source shared that Google will be opting for dual stereo speakers, with no headphone jack on its latest flagship. They also added that only particular markets will receive the USB-C headphones in the box, but it is still not verified yet.
The Pixel XL featured one of the best smart phones with excellent cameras a year ago and it is without a doubt that the new Pixel 2 XL will continue this trend or even better. According to sources, the Pixel 2 and Pixel 2 XL will include dual Pixel cameras with OIS but they might be referring to a front and back camera. This has been confirmed by our exclusive source stating that it is indeed one back camera and one front camera that Google dubbed as "Pixel Cameras".
Sources claimed that the Pixel 2 XL will be equipped with a Wide Color Gamut and a Google Imaging Chip and also an Optical Image Stabilization. It is yet to be verified whether OIS is present in both or if it's just going to be with one of the sensors.
The Pixel 2 XL will most likely feature a specs list worth a 2017 flagship. Based on our source, Pixel 2 XL will have an E-SIM card slot that will allow it to connect to different network carriers without having to replace a SIM card just like the Apple Watch Series 3. Aside from that this upcoming device will also feature the second generation of Google's fingerprint scanner.
Both devices sport an IP67 dust and water resistance as well as Gorilla Glass 5 which makes it pretty clear that these devices offer some durability. So far, the whole package will be containing a 3,520 mAh battery which is actually larger compared to other flagships released this year.
Google confirmed that they had acquired some part of HTC's R&D team last week. These had worked on Pixel devices and finally, with only a week to count, we'll be able to see the fruition of this acquisition. Sources also shared that the Pixel 2 XL will come with an Active Edge feature on the left side of the device which lets users squeeze the phone to open Google Assistant or to mute any incoming calls and alarms.
Pixel 2 specs
It is expected that the Pixel 2 will pretty much have the same specs as the Pixel 2 XL but have some slight key differences that distinguishes them apart. The Pixel 2 is also expected to share the same design as the last year's Pixel. But of course there would be some difference as Google will remove the 3.5mm headphone jack and add the dual stereo speakers instead which will most likely in the larger bezels included on its design. And instead of the curved QHD screen just like with Pixel 2 XL, the Pixel 2 will have an FHD screen and won't probably have the new Wide Color Gamut present in the larger model. Since this device's screen has smaller and lower resolution, it will only have a 2700 mAh battery compared to Pixel 2 XL's 3500 mAh.
Our source added that if you purchase any of these devices, you would be granted unlimited Google Cloud storage until 2023. This is really great if includes any file and not only photos.
Check the illustration below to sum up Google Pixel 2 and Pixel 2 XL's specs.