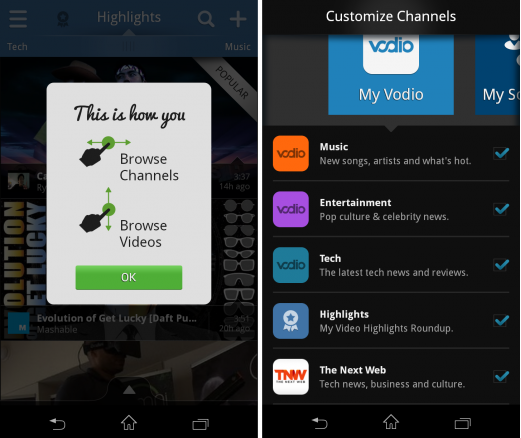 Obviously, YouTube is the most popular video website in the world for a reason. But there are some things I don't like about YouTube, and its video recommendation system is one of those things.
That's a problem that a video discover app called Vodio seeks to solve. Vodio was released onto iOS last year and was recently released for free onto the Google Play Store. The app uses a special algorithm to identify videos that it thinks you, the user, would like.
Here's how Vodio works:
-The app aggregates videos from news outlets as well as YouTube channels to which you're currently subscribed
-Those videos are organized into channels within the app
-Users can browse through channels like 'Highlights', 'Entertainment', 'Tech', or 'Music' to find videos they want to watch
The app is a good idea and it's also well-executed. Users can add their own custom channels as well. So if you want to watch sports highlights, you can subscribe to a bunch of sports channels and place them in your Sports feed.
The app actually includes a video player, so you don't need to leave the app to visit YouTube once you're ready to watch videos. Instead, the video player functions just like your YouTube player and will flip the screen from vertical to horizontal if you like. You'll also be able to read video descriptions and other identifying information for your videos.
The app is smart to begin with, but it only gets smarter as you move along. The app will learn which type of videos you like based on your feedback using thumbs up and thumbs down icons. You can also share YouTube videos with your friends over social media, if you care.
The interface is a breeze to work with. You browse channels by swiping left and right, and you browse specific videos by swiping up and down. You can even remind yourself to watch videos later simply by tapping the 'Watch Later' button, which is an on-screen clock.
If you want to spend more time watching YouTube videos you like and less time actually being productive, then you can check out Vodio for yourself by clicking here