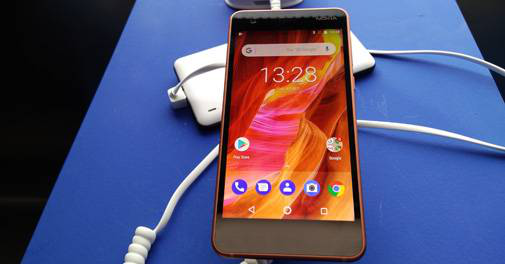 HMD Global plans to venture into the ultra-cheap smartphone section to increase its market share all over the country with the new Nokia 2 Android. As of now, the company's market share is on a steep climb in the feature phone segment where they have 8% hold in the market and where they are at the fourth position in the feature phone market.
The company has made its very first exclusive launch with the Nokia 2 in India. The smartphone boasts a number of interesting featuresof its own while the USP of the launch event in New Delhi was a hands-on session on a moving train. Some of its interesting features are a 2-day battery, a 5-inch HD screen which is thrown in for a good measure and is running Android Nougat. Needless to say, the budget smartphone is definitely in every department.
The Director (Product and Portfolio), Nokia named
Pranav Shroff stated:
"Nokia has always been a people's brand, and with the new avatar of Nokia mobiles we are looking to continue to be a people's brand and to bring our full range of portfolio of smart as well as feature phones to the consumers out there. We will continue to be a company and a brand that delivers a device for everyone."
The launching of Nokia 2 will surely give the brand a very much needed boost in the smartphone segment. While other Nokia smartphones such as Nokia 3, Nokia 5 and Nokia 6 which are also based on Android operating system were also released earlier this year. And then later on the company released their flagship Nokia 8. Nokia's comeback is a positive store according to Qualcomm India head, Larry Paulson who stated, "We all know the history of Nokia and how strong it was in India. Yes, 2017 is a different world but it's a big market and there is a lot of room for many brands to be successful. If Nokia executes, they have a solid chance of being a winner in the market."
"Qualcomm believes in segmentation. We use partitioning in our technology to match up to the price, performance in the market and really believe in the importance of grabbing that consumer," Paulson also commented regarding Nokia's strategy.
Paulson also added that the 200 series chipsets will help them expand their grasp when it comes to seizing the right customer stating, "We remove a certain amount of cost but we still provide a solid modem and a really solid feature-set to enable devices in that 75-150USD range."
Here are some of Nokia 2's specifications:
Processor: Nokia 2 is powered by Snapdragon 212 together with an Adreno 304 GPU. Even though information about the device's RAM weren't given during its launch, experts believe it to come with a 1GB RAM and an 8GB internal storage.
Battery: Nokia 2 is equipped with a power from a 4100 mAh battery. A 2 days woth of battery life us guaranteed by HMD Global with an average usage of 5 hours a day. While the modest Snapdragon 212 SoC on the smartphone should help achieve its ideal battery life. This is the part where Nokia shouldn't disappoint as they are known to offer users with a device equipped with a long-lasting battery life.
Display: the 5-inch HD screen of Nokia 2 is definitely one of its biggest selling points. Its 5-inch HD screen also comes with a contrast ratio of 13000:1 along with a Corning Gorilla Glass 3 display.
Camera: Nokia 2 features an 8 megapixel primary camera together with a 5 megapixel front facing camera.
Software: as mentioned earlier, the smarhpone comes with Android Nougat 7.1.1 which is absolutely a first for a phone in this part. Nokia decided to keep the interface identical to stock version that will keep it easy on the processor. The company also promises to keep Nokia 2 "pure and secure and up to date" that makes it future-proof which means that Nokia 2 will get a taste of Android Oreo in due time.