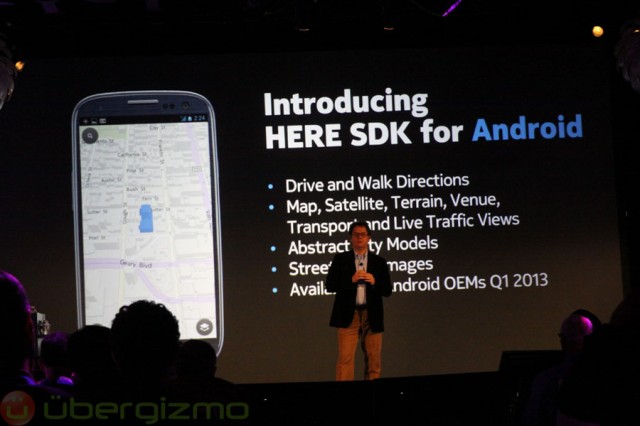 Some weeks back, it was only Windows users who could access the Nokia Here maps on their devices. But now, things have changed. The Here app would be available on both iOS as well as Android and what's more, Nokia has been able to strike a deal with a major OEM like Samsung as well.
Arch Rivals Come Together
Nokia and Samsung have been fighting each other in the market place for many years now. When Nokia ruled the mobile phone market, Samsung was still trying to make its presence felt but now the tables have turned with Samsung becoming one of the popular OEM selling a huge number of Android phones. Nokia has lost ground and is still struggling with decisions on whether to go fully Android, stick to only Windows or have both operating systems on its phones.
It is therefore ironical that these two giants will now work together, wherein Nokia will provide the Here app to Samsung Galaxy as well as Tizen gadgets. This will enable users to access maps from their Tizen wrist hardware. The announcement though is a bit intriguing because as of now the Here app is still not available on iOS or Android. Some industry experts feel that this may be a ploy by Samsung to get visibility for its Tizen. Readers may recall that Samsung initially wanted to use the Tizen operating system on its smart phones but has since decided to confine it to its wearables.
Samsung Keen To Carve A Niche For Itself
Samsung has been a more than useful contributor to the popularity of the Google Android operating system from the beginning. But it has since been joined by many other Android OEMs and has found it difficult to project itself as something different from them all.
It wants an identity for itself that is separate and the Here app integration might be the step it wants to take to differentiate it from other Android OEM competitors. Nokia on the other hand respects the reach Samsung can provide in the market place and wants to offer them the Here app, which they hope would also tie in with Samsung's plans for the Gear and Tizen operating systems in the months to come.
Indeed Samsung has found it tough recently to differentiate itself from the other Android OEMs due to Google's increasing control over what OEMs should or can do with their OS. Google has prevented many OEMs from customization by adding skins or UIs. The usage of Google Maps is also a compulsory feature that Android users cannot escape.
Nokia's Problem With GMS
Since OEMs usually use GMS Android version with Maps preinstalled, Nokia would find it difficult to coax them to do anything different such that the Here app can take the place of Google Maps. It has therefore thought it fit to go with Samsung which will release Galaxy devices that would have the Here app preinstalled. The S3, S4 and S5 devices already in the market would be able to download the app from the Samsung Store. Those using the Gear smart watch would get it automatically