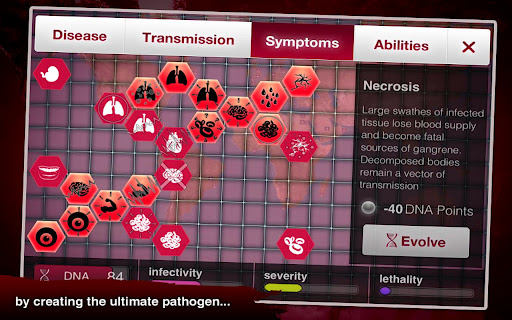 There are times when you just want to eviscerate all the people you hate, but of course doing that in reality would be crossing the line. However, if you're looking for a game that definitely satisfies your killer instincts then Plague, Inc. would definitely satisfy your cravings. And hey, guess what-the ever popular iOS game is now available on Android, for a very small price of $0.99 at the Google Play Store.
Plague Inc. is one of the most anticipated games to go available on Android since the time it was launched on iOS. The seemingly slow-paced game has attracted widespread fame as it included more than just arena for you to work on a winning strategy, but as well bring in your friends to play along and get ahead of your plans.
How Plague Inc. works
Plague Inc. is more than just a game of killing targets. You are taken to a situation in which you have to create a disease and spread it on your playing field to infect all humans across the world. You start by using a certain kind of bacteria and mutate it in different countries and continents, and after each round you get to unlock the microbes that will carry the disease you've created.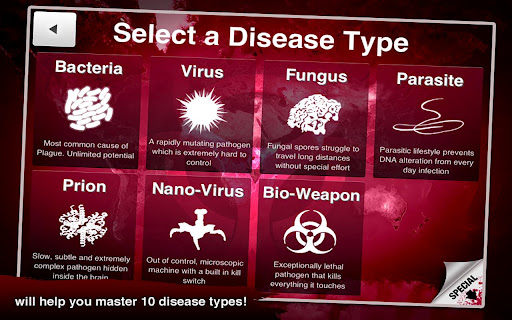 The main objective of the game is for you to make your diseases more contagious and at the same time harder to cure. You cannot just make it lethal at the early stages of the game, as it may kill not only all your targets, but as well as your microbes and yourself. Yes, you can easily self-destruct when you're not careful.
This game is not for the easily agitated. Unlike more interactive contemporaries such as Grant Theft Auto 3 or Shadowgun, Plague Inc. requires its players to be more serious and conniving. So yes, if you have the tendency to dominate the world, then this is the simulation game to use (kidding, of course). You can play God with the disease you're going to create and spread right on your phone or tablet.
And yes, this is the one game you can spread the ultimate epidemic of all time: Bieber Fever!
Pandemic II Rip-off
Plague Inc. has been tagged as the iOS counterpart of Pandemic II, a similar strategy game of the same mechanics. But Plague Inc. still carries the iOS vibe in it, so there's no need to rant about the rip-off stance.
Plague Inc. suits perfect to Android users who are also fans of iOS games, and we know it's always different to do things the iOS way.
Worth it at $0.99?
Plague Inc. has been one of the top-paid apps on iOS, and it has been a major concern for Ndemic Creations, the team behind the game, on how to bring it to the Android market. For one, piracy is a major hurdle in the more open Android landscape, and the game would be in a very risky position for jailbreak threats.
Hence, Plague Inc. was set a hefty low price of $0.99, which can be exclusively purchased at the Google Play Store. No free versions as of yet though, so no trial periods for those who wish to experience the morbidity of swiping off the human race.
While there were speculations that the game would only be available on a few devices, Ndemic Creations has confirmed that Plague Inc can be played on all Android tablets and phones. Yes, it's not exclusive as it used to be on iOS, and you can start playing it right after purchase. No need to fret if you're not using a Samsung or an HTC; the game would work fine.