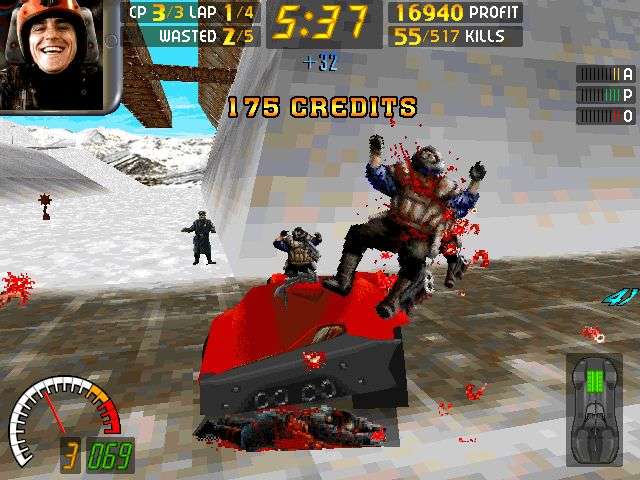 If you've ever been to a demolition derby, then you know how exciting it can be to watch multiple vehicles smash into one another repeatedly.
Well, one company seeks to bring the magic of demolition derbies to Android through Carmageddon. Carmageddon is a classic vehicular combat game that first appeared on the PC in 1997. That 1997 game was actually inspired by a 1975 movie called Death Race 2000.
Here's the funny thing about the 1997 Carmageddon PC game: it was banned around the world. That's right: today, you can kill hookers in Grand Theft Auto, do half a dozen burnouts over their body, and nobody bats an eye. But back in 1997, the world was apparently much more puritanical.
Today, Carmageddon is reaching out to a new generation of fans with iOS and Android apps. While the iOS app has been out for a few years, Stainless Games recently completed a round of Kickstarter funding designed to bring Carmageddon to Google. Stainless Games set a Kickstarter target of $400,000, which it reached in a surprisingly short amount of time.
How Carmageddon works
In Carmageddon, players take control of a vehicle designed for the sole purpose of destroying other vehicles as well as pedestrians. Players use their car as a weapon and get energized by a bunch of crazy power-ups.
The goal is to kill every pedestrian, knock out all opponents, and beware of cops driving armor-plated cruisers. The game is surprisingly deep, with 28 different opponents to deal with (all of which have unique and crazy personalities).
There are also 11 different environments and 36 different levels to progress through. And with 30 playable cars and a crazy replay system, there's a lot of replayability here.
Check out how the control scheme works by watching this video. If you're sensitive about watching CG human models get run over by large sports cars, then this video isn't a good one for you to watch:
Carmageddon isn't free. But I think it's a fair price to pay for this much content. And with an average rating of 4.9 stars out of 5 on the Google Play Store, Carmageddon is winning over fans around the world.
Carmageddon is currently available for $1.99 from the Google Play Store