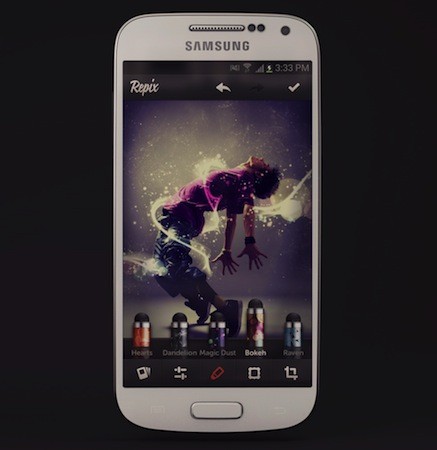 Another popular iOS app has made the transition to Android. That app is Repix, which is one of iOS's most popular photo editing tools. Repix lets users add all sorts of cool effects to their pictures, including filters, frames, brushes, and more.
The goal of the app is to turn your ordinary photos into masterful works of art – even if you can barely draw a stick man on a piece of paper. The app makes it easy to fake being an artist, which is perfect for all you selfie lovers out there.
Unlike Snapseed and Instagram, users can edit the content of their photos with Repix instead of just messing around with filters. Users on the Galaxy Note and Galaxy S tablets will also appreciate the ability to add effects using the S-Pen.
Once you get the hang of it, you can do some pretty amazing things with Repix. Check out the video below to get an idea of how Repix aims to change the photo editing experience:
There are sliders for contrast, brightness, vibrance, saturation, temperature, and more, as well as a diverse range of effects buttons. The best way to figure out Repix is to download it for free here and start messing around with one of your selfies today.