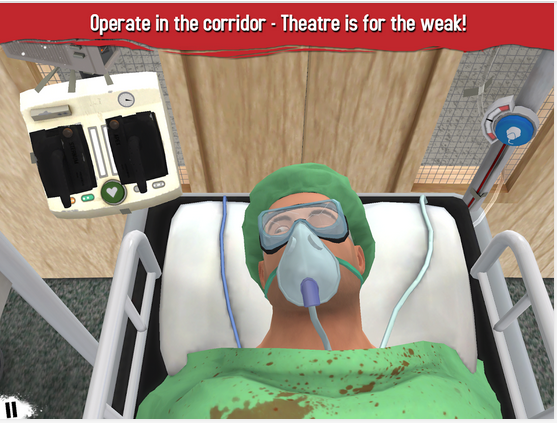 Surgeon Simulator was released for PC last year to much acclaim.
Like Flappy Bird, Surgeon Simulator is stupidly frustrating. It's almost as hard as performing real surgery.
Finally, you can play Surgeon Simulator on Android. The game was recently released onto the Google Play Store for a price of $5.99.
Unlike most simulator games, Surgeon Simulator doesn't actually simulate real surgery. You can perform a brain transplant simply by whacking away skull fragments using a hammer and then messily slapping a brain into the skull.
You can perform a heart transplant by using a buzzsaw to cut apart the ribs, tear out the organs inside, and then plop in a heart.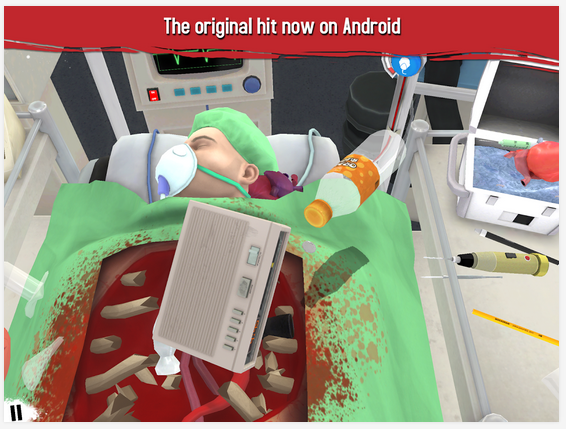 In Surgeon Simulator for Android, you get to perform similar operations. The game's official description says:
"You are the surgeon. Bob is the victim. Do your worst! Take care of the world's unluckiest patient, Bob, with your very own shaky hands. As the would-be surgeon Nigel Burke, perform all kinds of surgeries to try to save his life – or faiol hilariously in the process while poor Bob…Well, dies."
It's ridiculous and entertaining and in no way a real medical simulator. The best way to understand this game is to turn to YouTube.
One of the best things to come out of Surgeon Simulator 2013 was this "Let's Play" video from Rooster Teeth:
That video gives you an idea of how frustrating the game can be – especially when one player controls the keyboard and the other controls the mouse.
In fact, Surgeon Simulator was made famous by its YouTube videos. PewDiePie, Rooster Teeth, and Robbaz all released popular videos showcasing the game in all its glory.
Unique Android features
Android users get a few unique features, including:
-Heart and double kidney transplants (both of which were available in the original)
-Two new surgeries, including teeth transplants and eye transplants
-A new operating theatre: operate on Bob while he's lying on a moving trolley in the hospital corridors
-A new control system that utilizes touch screens
-"Tons more we won't tell you so we don't spoil the surprise"
Download Surgeon Simulator for Android today from the Google Play Store here.