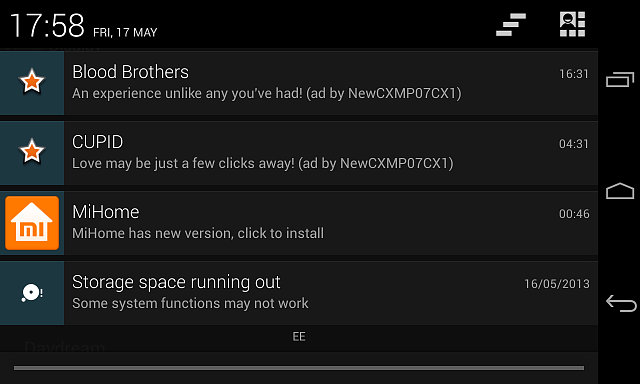 There are lots of good free games available on the Google Play Store. Unfortunately, a lot of those games come with a catch: they deliver a nonstop series of annoying advertisements to your notifications bar.
Some of these advertisements appear in-game, which is annoying enough. But a select few apps also deliver advertisements when you're not playing the game. These ads appear in your notification bar and trick users into thinking they're real notifications. In fact, some ads even make the 'text' or 'email' sound when they deliver themselves to your notification bar.
There are few things more frustrating than opening up your phone thinking that it's a text, only to realize that it's just a message from Subway Surfers and that you're still terribly alone.
Well, Android users, our pain is finally over: Google recently changed its Play Store policies and will no longer allow apps to:
-Add homescreen shortcuts
-Add browser bookmarks
-Add icons to third-party services for advertising purposes
-Display advertisements through system level notifications unless those notifications involve a central service offered by the app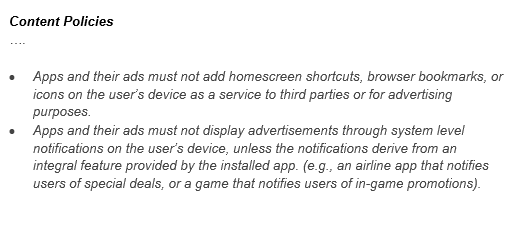 App developers will likely be upset by these changes, as the industry was estimated to generate hundreds of millions of dollars of additional app revenue for developers. In fact, Airpush, which was one of the worst offenders, was reportedly able to earn $150 million for its publishers through these annoying notification bar advertisements.
Now, this rule change doesn't mean that all bad apps will instantly be removed from the Google Play Store. Instead, it means that users will now be able to report violators and have them legitimately removed from the Store. If you are currently using an app that still does this, take the time to send a report to Google.
You can read the full developer content policy with all its changes here.