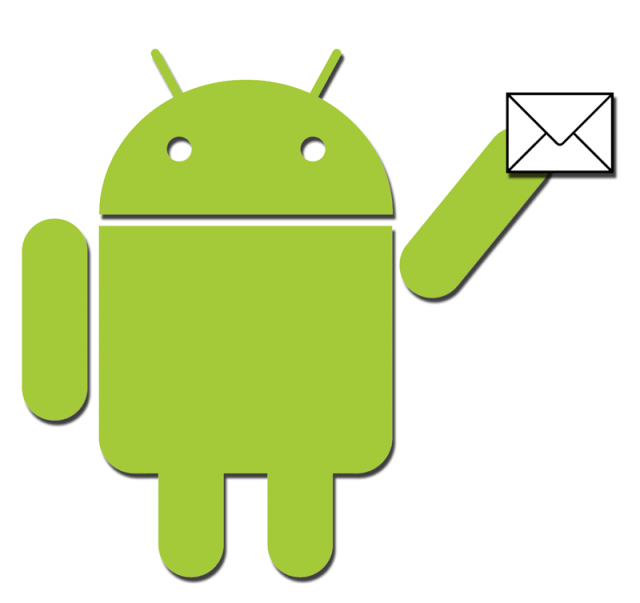 Android works perfectly with Gmail. However, some people feel that Gmail is one part of Google's world domination conspiracy. Other people don't like the fact that Google reads through your emails and delivers advertisements based on that content.
Fortunately, nobody is forcing you to use Gmail. If you don't like Google's flagship email service, then check out these 3 other email alternatives. These email apps for Android are designed to offer something different from Gmail while still featuring the awesome convenience and usability of Android:
K-9 Mail (Free)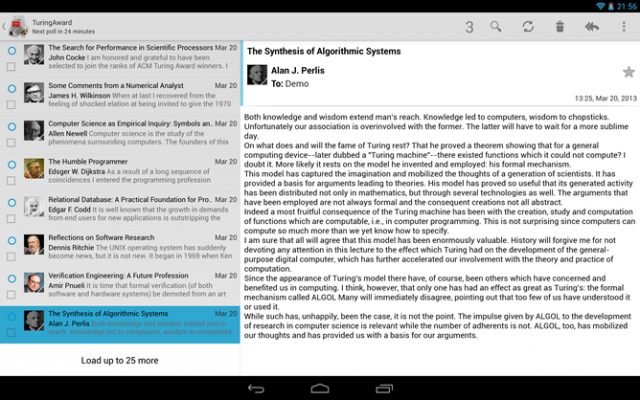 K-9 Mail isn't nearly as colorful as Gmail. It features a black, white, and grey design with some blue coloring on highlighted emails, but that's about it. The app also has a cheesy robot dog icon, for what it's worth, but don't let that distract you from the fact that this is a fantastic email app. K-9 Mail has all the features we know and love from Gmail, and in fact, the interfaces look surprisingly similar.
K-9 is especially good at managing multiple accounts, and both the smartphone and tablet versions of the app feature a useful split-screen mode. I also like the ability to setup a quiet time when you don't want to be disturbed by emails, and there are a surprising number of customization settings available.
K-9 Mail is free from the Google Play Store
AquaMail (Free)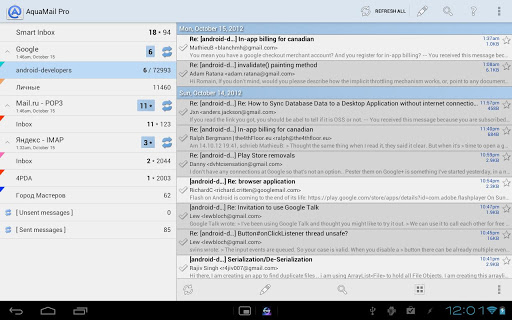 Aqua Mail is very good at managing email accounts from multiple services. If you have a corporate email account, for example, that uses Lotus Notes or Microsoft Exchange, AquaMail can handle that with ease. AquaMail is equally as adept at setting up standard email accounts from Gmail, Hotmail, and Yahoo.
I strongly recommend AquaMail if you use third-party launcher apps like Nova Launcher, Apex Launcher Pro, and Tasker, all of which are designed to work seamlessly with AquaMail.
AquaMail's best feature is its Smart Inbox, which allows you to choose which emails are the most important and designate those emails to your Smart Inbox. It's not as good as Gmail's new inbox management/sorting features, but you can customize it to make it better.
AquaMail is free from the Google Play Store.
Emoze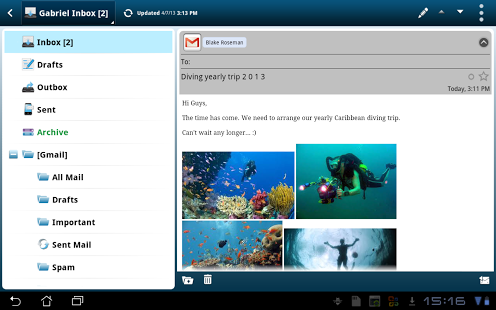 Emoze rounds out our picks for the top three alternative Android email apps available today. Emoze looks totally different from Gmail and features a unique interface. It's not anywhere near as aesthetically-pleasing as the other email apps listed here (to put it nicely, it looks like crap) but what it lacks in design it makes up for in quality.
Emoze includes a designated attachments folder and the ability to set up a syncing schedule. You can also monitor how much data you've used over your email app and look at peak days and times for your email traffic.
But really, the main reason you would want to use Emoze is for its encryption and remote wiping abilities. If you're concerned about security and don't like Google prying into your private life, then Emoze is a good 'next-best' solution when it comes to email security.
Download Emoze for free from the Google Play Store
Honorable mentions
Both Outlook.com and Yahoo! Mail offer Android clients. Since they're made by multibillion dollar companies, both of these email apps have better production value than the email apps listed above.
Yes, you can still use your Gmail email address
The apps listed above all replace your Gmail app, but they don't require you to switch away from your actual @gmail address. If you want to use another email address, you can, but switching email clients is a lot easier than telling everyone your new email address.