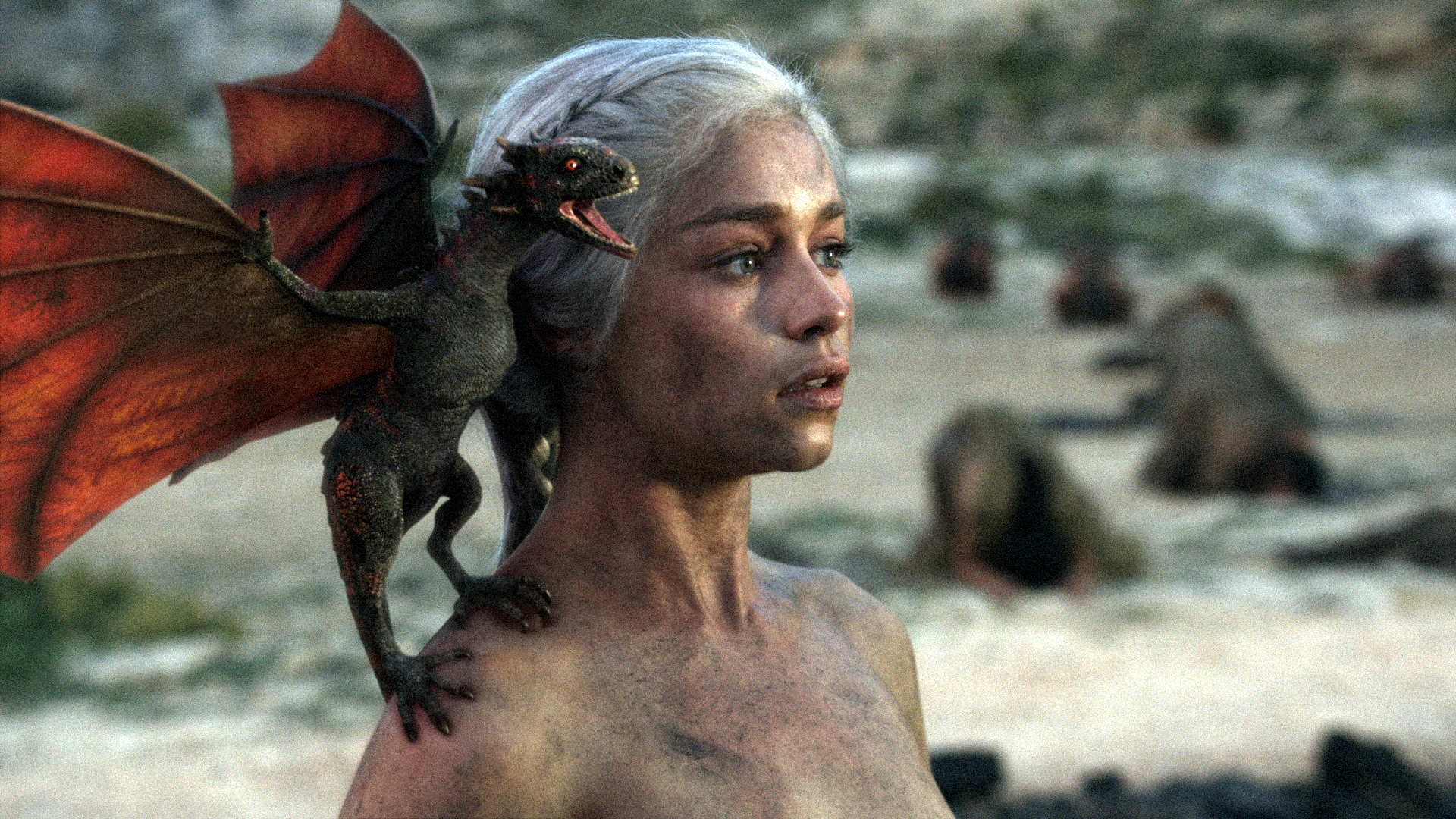 Game of Thrones is easily the most popular fantasy show ever made. As a longtime reader of A Song of Ice and Fire, I did not expect the TV show to become so popular with such a large number of people.
I mean, even my mom – who's never heard of people like Robert Jordan, George R. R. Martin, or R.A. Salvatore – is well aware of Game of Thrones.
Love Game of Thrones? Want more Game of Thrones? Here are the best Android apps to satisfy your love of everybody's favorite HBO show featuring a little person:
3) A Game of Thrones Guide
Produced by Random House LLC, A Game of Thrones guide is free to try and includes detailed information packs about the characters, cities, and regions in A Song of Ice and Fire.
The app also comes with "anti-spoiler functionality" that lets you restrict the content you see based on how far you've read in the books. There are 600+ character profiles in total and you can learn full details about the characters as referenced in the books – not just the TV series.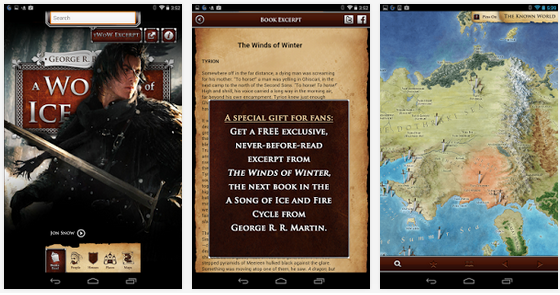 Let's face it: there are a lot of characters in A Song of Ice and Fire and at least 100 to 200 of those characters have significant roles at some point. Unless you're some kind of savant, you're going to need some help keeping all those 'Sers' and 'Maesters' apart.
Beware, however, that this app loves trying to coerce you into buying things you probably don't need. You'll need to buy in-app purchases to get the most out of this app, but I don't recommend doing that. Instead, every time you come across something you need to know more about, just pop that info into your browser and Google it. Save yourself a few bucks.
The main info pack costs $4.99 and the free section of the app is just a teaser. Still, it's a decent way to improve your knowledge of the lore.
By the way, this app is also known as "George R. R. Martin's A World of Ice and Fire" on the iTunes App Store.
2) QuizUp – Game of Thrones and A Song of Ice and Fire topics
Okay, this isn't strictly a Game of Thrones app, but the "Game of Thrones" and "A Song of Ice and Fire" sections of QuizUp are excellent places to hone your knowledge of the lore.
If you're not already addicted to QuizUp, it's a timed trivia game that recently arrived on Android after months of success on iOS.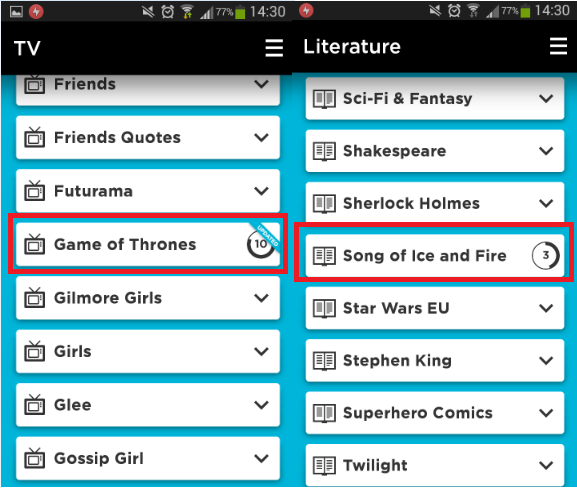 You get 7 questions in a row. The first 6 questions are worth 20 points, while the last question is worth 40. The faster you answer, the more points you get.
You can challenge friends or get matched up with strangers. Either way, be prepared to answer some challenging questions about your favorite fantasy universe.
For whatever reason, every time I play these categories I get matched up with some guy or girl dozens of levels higher than me who seems to know everything about the books and TV shows. But when you get matched with someone closer to your own skill level, QuizUp's Game of Thrones categories are a lot of fun.
Download QuizUp here. Game of Thrones is under the TV Shows category and "Song of Ice and Fire" is under the Literature category.
1) HBO Go
HBO Go lets you stream episodes of all HBO shows – provided you're an HBO subscriber.
Best of all, shows are premiered at the exact same time as they appear on the HBO channel, which means you're not out of the loop at all.
Unfortunately, HBO Go is only available to people who live in America, which means that the rest of us freedom-hating individuals get this unfriendly message when we try to give HBO our money:

Still, if you live in the US, HBO Go is the best way to watch live Game of Thrones episodes and catch up on previous episodes. It's well worth the subscription price if you watch other HBO shows as well.
Download HBO Go from here
Why are there only 3 apps on this list? Because despite all my research, I couldn't find any other quality Game of Thrones apps to try out. There were other good apps found on iOS but not Android, while other apps were just out to make a buck.
Do you have any good Game of Thrones app recommendations? Leave a comment below and we'll add it to the list!