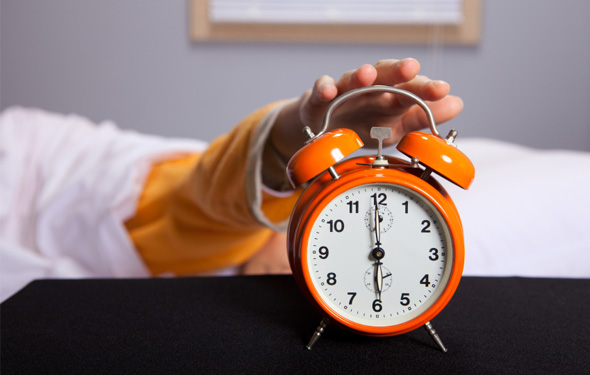 Whether you're a high school student or a 9 to 5 employee, alarm clocks are usually an unavoidable part of life. Today, I'm going to review some of the best alarm clock apps on the Google Play Store today that will make it slightly less painful to interrupt your sleep every morning:
doubleTwist Alarm Clock
With over half a million downloads and an average rating of 4.5 stars out of 5, the doubleTwist Alarm Clock is the most popular paid alarm clock app on the Google Play Store today. doubleTwist costs $1.99, but that hasn't stopped users from all over the world using it every day to wake up.
The doubleTwist Alarm Clock includes the following features:
-Dozens of alarm sounds and modes
-Mixture of gentle sounds and heavy tunes
-Flip clock and analog clock modes available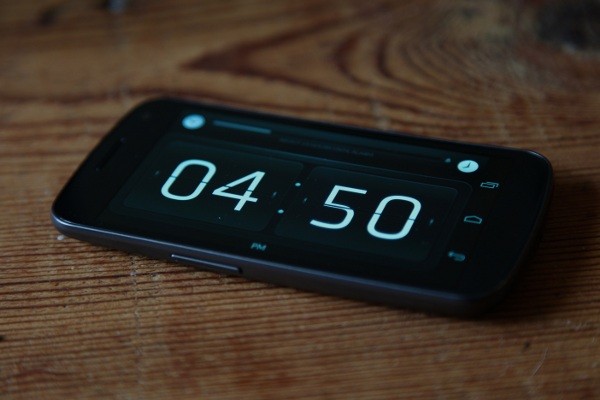 -Nightstand dim mode, which allows the app to function like a regular nightstand alarm clock
-Different wake up modes include time, sleep cycle, quick nap, and sunrise
-Set multiple alarms, recurring alarms, and alarm schedules
-Works with any smartphone running Android 2.2 or higher
-Tons of other features that make this one of the most deep-featured and useful alarm clock apps in the Android world today
If you don't want to pay $1.99 for the doubleTwist Alarm Clock app, download the free trial version from here, which includes most of the same features but expires after 7 days. If you're ready to dive right into the $1.99 version, you can download that here.
I Can't Wake Up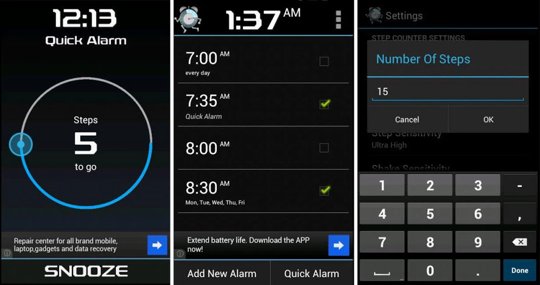 Sometimes, you need an alarm clock with a little extra oomph. I don't know about you, but when I use my Android alarm, I usually just pick up my phone, turn off the alarm, and go right back to sleep. After all, it's so easy to sleep the alarm clock to 'off' mode – especially when it's right on my bedside table.
With "I Can't Wake Up", you'll have to perform 8 – that's right, 8! – different tasks in order to shut off your alarm. This app comes with a few different alarm modes, including rising volume alarms, dimmed screen bedside mode, and snooze music.
Waking up to the I Can't Wake Up alarm is kind of like defusing a bomb. When you wake up to turn off the alarm, you'll have to complete 8 creative tasks designed to force you to start thinking and moving your body:
-Math: Do some basic math equations
-Memory – Pair up the colored tiles on a grid of squares
-Order – Set tiles into the correct order
-Repeat – Repeat shown click sequence
-Barcode – Scan a pre-chosen barcode from somewhere in your house, like the bathroom or kitchen
-Rewrite – Carefully rewrite randomly generated text
-Shake – Vigorously shake your phone until you feel awake
-Pairs – Connect word pairs, like world capitals to their countries or foreign words with English words (this task is customizable)
I Can't Wake Up is free with ad-support and you can pay for the full version to remove ads. It's a fantastic and creative way to force yourself to wake up every morning – especially if you're constantly tempted by the snooze button.
Download I Can't Wake Up for free here
AlarmDroid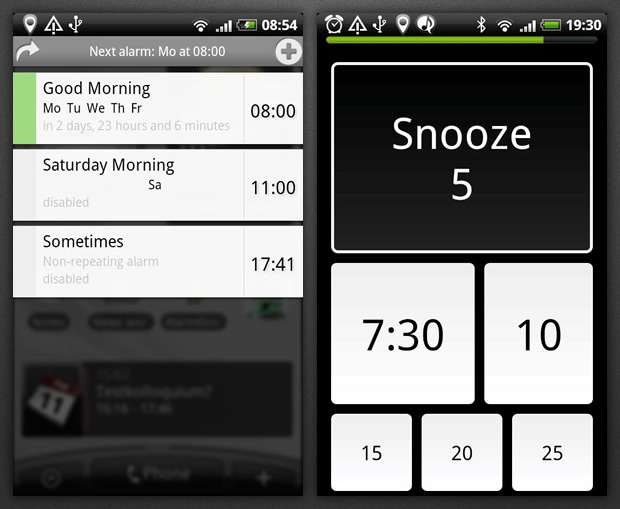 Unlike the alarm app reviewed above, which forces you to complete challenging tasks in order to wake up, this app is the complete opposite. With AlarmDroid, you can simply turn over your phone in order to turn off the alarm and go back to sleep. So if you're the kind of person who appreciates your sleep more than you appreciate getting stuff done, this is the alarm app for you.
AlarmDroid includes other features that make it a popular alarm clock (it's been downloaded over 5 million times):
-Simple and minimalistic interface
-Speaking clock which tells you the time ad local weather state
-Set internet radio stations as alarm tunes, which is a particularly unique and popular feature
Download AlarmDroid for free by clicking here
Sleep Time Alarm Clock
Have you ever wondered why you can sleep for four hours and feel refreshed but sleeping for 6 hours leaves you exhausted? The Sleep Time Alarm Clock knows why: it has to do with sleep cycles.
Sleep Time Alarm Clock uses a sleep cycle analyzer called Sleep Lab in order to optimize sleeping times. This app uses your Android's accelerator to detect any movement you make while sleeping. Your body makes different movements in a deep sleep state compared to a more shallow sleep state, and you can set your alarm to only wake you at times when you're guaranteed to feel refreshed.
Sleep Time also analyzes your sleep over time and looks for improvements in your sleep patterns. The intuitive interface makes it a breeze to use and I encourage anybody with sleeping problems to check out this app for free here.