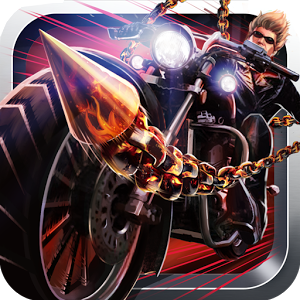 After the successful launch of Death Moto in July last year, ICLOUDZONE Games is proud to bring us the second installment of the merchandise, Death Moto 2. It is an action arcade game and like its predecessor, it also is a fun-filled joyride with smoother gameplay physics.
Theme
This sequel claims to possess better game content in terms of story, graphics and features. They have also streamlined the engine for a crispy operating experience. Players will continue to play the role of the biking protagonist and ride through the frenzy world of hostilities. There are biochemical threats & hazards spread across the game world which act as hindrances for the rider – Frightening Zombie attacks that will pull the chair beneath you. The player needs to dodge the attacks and eliminate the threats simultaneously. It thus manages to pack a lot of punch for gaming enthusiasts.
Characteristics that define Death Moto 2 are:
Outstanding graphics
Smooth user interface
Rich game content
Sufficient arsenal of weaponry
Challenging gameplay
The gameplay is exciting and has a bit of role playing element in it. Players can develop the character by upgrading their steeds and weapons and the effects are pretty evident in the gameplay.
How to Play – The pleasure is unlimited as we pick up tools in this game to knock down other rival riders. We need to target and throw the tools at other motorcyclists. The players gain helmets/crowns for their feat of knocking down other riders; these can be later used to unlock goodies. Nitrogen runs the vehicle in this game and it is consumed when the rider accelerates, so it is advisable to collect nitrogen along the way without fail or we will fall behind in the race. We can choose from the variety of motorcycles to play with. More powerful options are unlocked as we progress through the game. The scoring criterion is based on the maneuvers and killing of riders alike, creatures & zombies.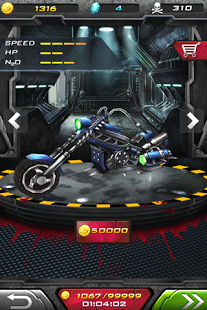 The graphics engine never ceases to amuse the player, especially for a 14 MB apk size of game. Controls are butter smooth and responsive. We can view the required information on the left and right sides of the upper screen, the speed can be viewed on the bottom of the game screen. We can post our scores on online leadership boards for rankings regularly. This will give an idea of our standings in terms of expertise of the game. This feature will also require a user to login through a Google account. If one doesn't have an account, it is hardly a matter of few clicks to create a new one. This war of scores can also be shared via social networking sites like Facebook & Twitter. The game is rated with medium maturity, due to the slight destructive nature.
The game is available for download via Google Play Store and the minimum requirement is Android version 2.1 and above. The new version comes with bug fixes too.