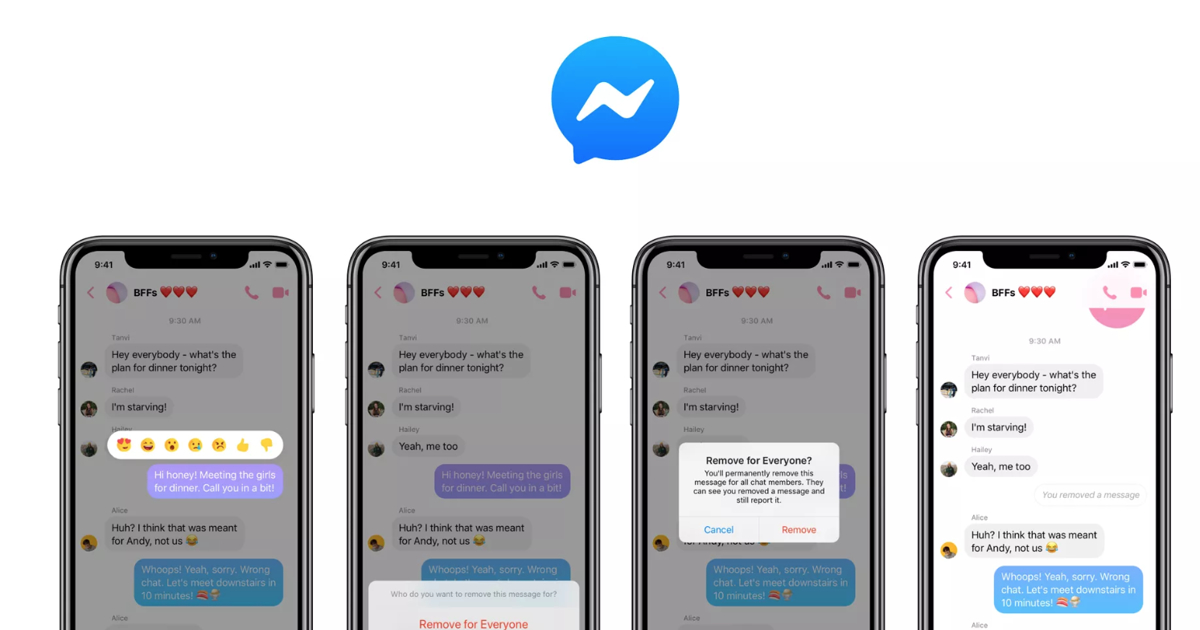 It's bad when you accidentally hit that sticker or GIF that is totally unrelated to your topic. The worst part is when you suddenly burst into chatting nonsense and regret it right after the second you hit send.
Thankfully, Facebook Messenger has addressed this user concern and finally came to a decision to include an "unsend" option on its app. Users can now take back what they say and erase it from history forever.
The Facebook Messenger unsend feature will allow you to permanently delete messages you've already sent to others from both your window and theirs. Previously, you can only delete the bubble on your side of the conversation and other parties can still view the message on their window.
The unsend feature is live on Facebook Messenger and we'll show you how it works. But first, we need to remind you that even though this feature is cool enough as it is, it has limitations and not nearly as powerful as you have expected it to be.
How Facebook Messenger unsend limitations
Before you get too excited, we need to discuss the limitations first.
The first, and biggest limitation is that you are only given 10 minutes to delete that unwanted bubble. If you delete the message within the 10-minute timeframe, the message will disappear from both sides of the conversion. Beyond the time allowance, the regrettable message will sadly remain from other windows even though it's deleted.
The second limitation is you can only delete the messages you sent. That's right, you can't delete other people's chat. So, if you accidentally sent a kissing sticker to your best friend, and the other person replies with a vomiting sticker, there's no taking that back. A responded chat is automatically presumed to exceed the 10-minute allowance.
Lastly, Facebook made it clear that even though you have deleted the unwanted message, they will keep a backup to help authorities track back in case the feature was abused. This policy is to prevent bullies or criminal activities from sending messages, deleting them, and then there being no proof that the messages were ever sent. Facebook did not disclose how long the data will remain in the backup.
Here's how it works
With all that in mind, here's how you can easily unsend messages on Facebook Messenger.
First, tap and hold the message you want to delete to bring the options you have. Choose "remove" to bring up a secondary menu of remove features. The secondary menu will give you two options: Remove for You or Remove for Everyone. Tap an option to confirm and the message will disappear from the chat window.
Apparently, you can't immediately hide a deleted message. Once you delete a message, a "tombstone" will appear on the thread for everyone to see. This will notify everyone that you have a dark secret you don't want them to know.
Users who tried using the unsend feature have discussed that its functionality is too limited right now. At the same time, they are thankful that at least they have the option and 10 minutes allowance to take back regrettable messages.