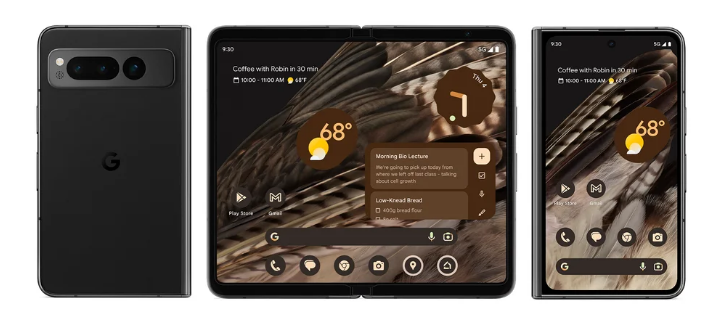 With Google's I/O developer conference behind us, it's time to compare specs and prices!
What Google Pixel 7 models are available?
Pixel 7 and Pixel 7 Pro had already been out when a neat addition to the series was introduced a few days ago – Pixel 7a. But that's not the only new Pixel device unveiled at the I/O keynote this year. Google finally showcased its Pixel Fold and Pixel Tablet as well, giving us quite a bit to talk about these days.
Many of you might have been tempted to upgrade to a newer Pixel model or switch completely if you're using a phone from a different series now. To help you decide, we want to give you an overview of the 4 latest Pixel smartphones – Pixel 7 and 7 Pro from last year and 7a and Fold from May 2023.
Pixel 7 smartphones: specs, design and price
Pixel 7
The first of the Pixel 7 series, this base model was announced in May 2022 and officially released in October 2022.
In many ways, Pixel 7 is exactly what you'd expect from a device that's next in line in an established series. It's a sleek revamp of its predecessor, Pixel 6, with a few neat improvements, but largely remains pretty much the same thing.
For starters, Pixel 7 flaunts a stronger selfie camera of 10.2 MP, larger field of view (92.8°) and better aperture (f/2.2). The rear camera, on the other hand, has undergone no changes (50MP wide with f/1.85, 12MP ultrawide with f/2.2, 114° FoV).
The design also remains quite familiar, with the back visor slowly becoming an iconic part of the Pixel family. With the 7th series, it curves into the phone frame even more smoothly.
This 7th series also reverts the norm of sizing up by actually going smaller and lighter: 155.6 x 73.2 x 8.7mm and a weight of 197g. The display of Pixel 7 is 6.3 inches. Seems like an appropriate size for a base model if you ask us. 
The display improvement is there, but might seem negligible: pixel density of 416 ppi and peak brightness of 1400 nits, as opposed to Pixel 6's 411 ppi and 800 nits. The battery is smaller (4355mAh), but Pixel 7 makes up for it with an enhanced chip (Google Tensor G2) to foster performance, so ultimately the overall battery life is about the same. 
The RAM stays at 8GB and the storage options are 128GB and 256GB, so nothing new there. Wireless charging is also still supported and wired is slightly sped up (30W).
A new Pixel 7 typically costs from $600 upwards, while Pixel 6, interestingly, costs about the same, though there are tons of deals for it out there.
Pixel 7a
Pixel 7a was introduced at the I/O convention this year and is already available for purchase starting at $500. This price could prove detrimental, though, as users can get the base model for just $100 more. It also means the Pixel 7a is dangerously close to stepping out of the budget phone territory, especially when you factor in the Pixel 6a's original price of $450 and firm position on most 'best budget Android' lists. But we'll see.
Pixel 7a is a bit smaller and lighter than Pixel 7, its dimensions and weight being 152.4 x 72.9 x 9mm and 193g respectively. The display is 6.1 inches and its camera visor is thinner too. What sets its look apart from Pixel 7 is the availability of two vibrant colors – sea (sky blue) and coral. 
The camera setup should prove satisfactory. The rear camera features a 64MP f/1.89 sensor and 13MP ultrawide lens with f/2.2 aperture, and allows a 120° FoV. The front camera has been pumped up to 13 MP and now includes face unlock too.
Like Pixel 7, 7a features the Tensor G2 chipset, 8GB RAM and an OLED display with a 90Hz refresh rate, but only 128GB of storage. The battery is a bit stronger, though (4385mAh). But this seems negligible when you consider that wired charging tops out at 18W.
Unlike 6a, 7a also supports wireless charging now, limited to 5W.
Pixel 7 Pro
Pixel 7 Pro was released along with Pixel 7 last year. And as you can guess, the Pro version definitely has a few powerful features up its sleeve compared to 7 and 7a. But of course this also comes with a price, since the model starts at around $800 for the 128GB version and climbs up as the storage increases.
Let's start from the look: while 7 and 7a look almost identical, Pixel 7 Pro does flaunt a different back visor. For Pixel 7's visor the finish is matte, while 7 Pro's is polished and also features an additional lens. The Pro version is also larger, with dimensions of 162.9 x 76.6 x 8.9mm and a 6.7-inch display. The AMOLED display's refresh rate is 120Hz, the peak brightness is 1500 nits, and the density is 512 ppi – a good overall enhancement in comparison to 7 and 7a.
Now, the biggest difference between Pixel 7 pro and the other versions is probably the camera setup. The rear camera is almost identical to Pixel 7's, except with a better FoV (125.8°), while the front camera has all the same specs as the base model. However, the Pro version also includes a telephoto lens which features 5x optical zoom capabilities and an aperture of f/3.5. This makes for some incredibly vivid shots.
Wireless charging goes up to 23W with the Pixel Stand and 12W with other compatible chargers. Wired speed is 30W, though, so nothing special. However, Pixel 7 Pro does feature a more powerful battery in general (5000mAh) and, unlike 7 and 7a, 12GB RAM.
Pixel Fold
It was only a matter of time before Google released a foldable phone, and Pixel Fold is its first model. Because of that, there's bound to be some hype around this one, folks. It was introduced along with 7a and the Pixel Tablet at the I/O conference and is now available for pre-order online in the US, UK, Germany and Japan.
The price starts at $1800, but is it really worth it? Let's take a look at some of its specs.
Like Pixel 7 Pro, it features 12GB RAM, but the lowest storage option is, expectedly, 256GB. Of course, there's also a 512GB version. The Pixel Fold features two OLED displays with a 120Hz refresh rate and a slightly lower density than the Pro version (328 ppi internal/408 ppi external display). Peak brightness ranges from 1450 nits for the internal 5.8-inch display and 1550 for the external 7.6-inch one. Ultimately, both displays seem promising in terms of content vibrancy and visibility in bright conditions.
The Pixel Fold includes a telephoto lens as well, which reaches a f3.05 aperture and a whopping 20x Super Res zoom capability. Despite lower MP counts (48MP main and 9.5MP front), the overall camera setup doesn't seem to be leaving anything to be desired when compared to the Pixel 7 Pro.
The chipset is the same as for the whole Pixel 7 series, and the Pixel Fold is powered by a 4821mAh battery, 30W wired charging and Qi wireless charging.
The bottom line: it's an incredibly cool addition and allows you to take pics without a tripod, but do the overall capabilities really justify the price and excitement? Why pay twice as much for an almost identical phone to 7 Pro just because this one is foldable? We'll leave it up to you, but it just doesn't seem like the Pixel Fold is powerful enough to sweep us off our feet.
Summary
Now that you've seen some of the basic info about Google's newest iconic Pixel series, it's time to start exploring for yourself. Colorways, battery capacity, price or camera – what do you care about the most? We hope you find the perfect model for you!