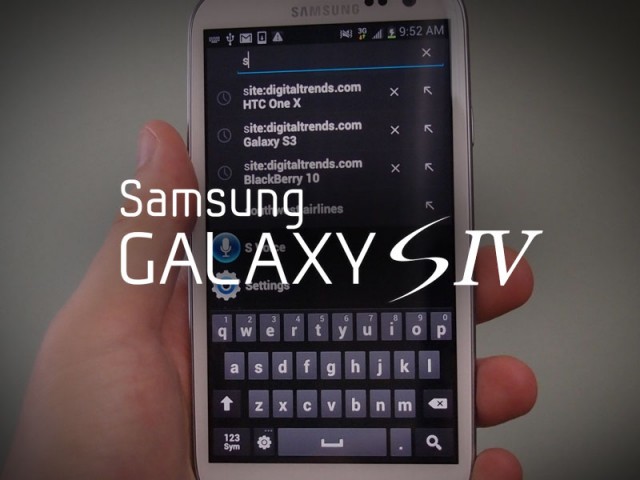 A few weeks ago, we reported that the Samsung Galaxy S4 would feature a 4.99-inch Super AMOLED display, making it just slightly larger than the 4.8-inch display of the Samsung Galaxy S3. However, new (rumored) details about the Samsung Galaxy S4 have recently emerged, and that means it's time for another rumor roundup.
Here is a brief roundup of the features that the Samsung Galaxy S4 is rumored to include:
-13MP camera
-1080p AMOLED HD display with 441 pixels per inch
-A Samsung Exynos Adonis chipset features 28nm architecture
-A debut during CES 2013 in January
The display
The thing that stands out most is the 1080p display. Most laptops don't even have a 1080p display, and seeing that kind of resolution on a smartphone would be a beautiful experience. Coupled with Samsung's already-vibrant AMOLED display and a 4.99-inch screen, it looks like the Galaxy S4 will make the S3 look pathetic in comparison. For those keeping score, the S3 has a 720p HD display, which is still very impressive.
The camera
The 13MP camera is also significant, but not as significant as you might think. Although that number might seem high, the S4 wouldn't be the first or only 13MP smartphone camera on the market. The Sony Xperia T and V models already feature 13MP cameras. It's also important to note that more megapixels does not always lead to better picture quality.
Still, you can expect Samsung to tweak the camera to a point where it can honestly advertise its product as being the best picture-taking smartphone on the planet.
The processor
The processor might not sound that impressive (what's an Exynos Adonis anyway?). But according to Phandroid, the processor will "bring pretty much the best smartphone performance we've seen yet." And the 28nm architecture will significantly reduce power consumption. So expect faster performance and better battery life (or maybe not – the 1080p screen should suck up quite a bit of juice).
The announcement date
Samsung usually announces new updates to the Galaxy line during the Mobile World Congress, which takes place around the end of February. However, the recently released batch of rumors states that the S4 would be announced during CES, which takes place in early January 2013. If that's true, expect the S4 to hit US markets six weeks sooner than expected.